I acquired a universal palette from Dior quite by accident, when, in an attempt to pass the time, I walked along the duty free. But, as it usually happens, I left it already with two beautiful palettes.
Description

Dior Rose Collection palette includes 4 shades of eye shadow, 1 lip balm, 2 gloss and one lipstick. The lightest shade of shadows is pressed glitter, the other three are satin. Lip balm is almost colorless.
A cool pink lip gloss is translucent with a little shimmer. Warm pink shine (almost coral) is also translucent, but with large blue sparkles. Lipstick has a lilac-pink shade, soft texture, no chimmer.
Included are two double-sided applicators and a large comfortable mirror. The case itself is made of genuine leather in Dior corporate style. I bought for about 50-60 euros.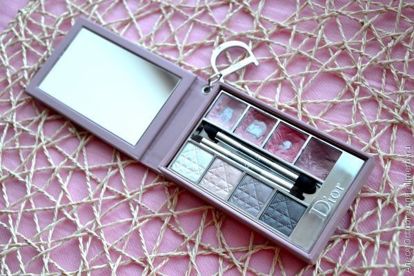 Personal opinion

I have never met the best lip gloss in my life. Not sticky at all, stamina is awesome, but what a shine! One sight for sore eyes. Lipstick – above all praise. Very gentle weightless texture, lips become as if silk.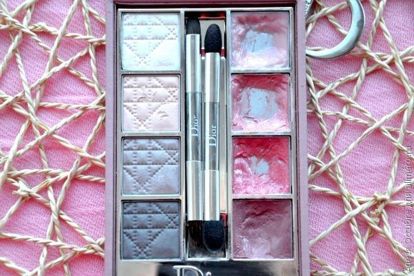 Shadows of muted tones, velvety and tender. Well go, easily shaded, do not roll down, do not crumble – in general, ideal. Pink satin shade perfectly refreshes the look and masks the redness of the skin.
Tightly pressed glitter is better to use over the main makeup to give a beautiful shimmer. The only drawback for me is that I do not really go gray shades.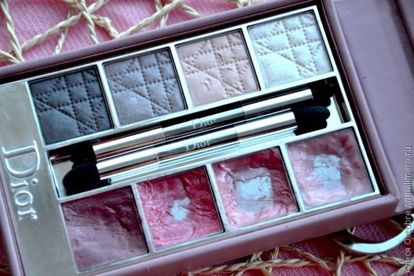 Benefits

– one solid pluses
disadvantages

– not found