Despite the art education I received once, years of practice, as well as a fairly solid hand, I still have not mastered the art of drawing arrows perfectly. Therefore, I can't even imagine how I would have done without the Thin Line eyeliner – with it the process has become many times simpler and faster.
It turned out to be just an irreplaceable thing for me. Before her, I tried both ordinary pencils and liquid eyeliner. But in both cases, the result was not 100% satisfied.
For example, I use pencil very easily, the line is natural and neat. But he practically does not hold onto my eyelids. My skin is oily, and in an hour the pencil literally drains and smears, in spite of any tricks, dusting and foundation for makeup.
Liquid eyeliner, on the contrary, lasts longer. But I can't apply it with a thin neat line. Well, to be honest, I can. But I'm lazy 🙂 The process turns out to be too long.
The Oriflame eyeliner is quite another thing – I can now bring my eyes with just one flick of the wrist. Therefore, I have been using it for several years and so far have been very pleased.
I remember that when I ordered this liner for the first time, I did not expect anything special. But once I used it, I just fell in love with her, and even immediately ordered the same second one. Since then, this product does not change.
Description
Eyeliner pencil The thin line (eyeliner stylo) is available in 2 shades: black and brown. I tried only black, in this regard it turned out to be conservative.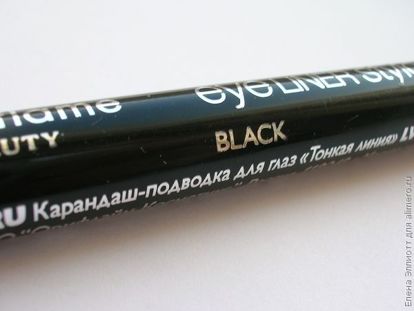 Volume – 1.6 g.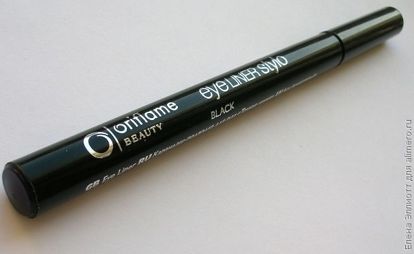 The cost in the catalog is 330 rubles (although I took a discount each time, and it turned out about 200 rubles).
Here is how the product is described in the catalog:
An eyeliner with a hard tip like a felt tip pen allows you to draw a bright, confident line. Saturated color dries in an instant. Self-renewing formula retains its brightness and durability from morning to evening. A tip like a felt-tip pen will help you gently move your eyes along the eyelash growth line or draw seductive arrows.

My impressions: pros and cons
I'll start with the advantages, since there are a lot of them in this product:
– The eyeliner is very convenient in use. Even such a clumsy as I, there is an opportunity to clearly and smoothly sum up the eyes or draw arrows.
– The color is saturated.
– Holds eyeliner, as promised by the manufacturer, all day.
– It is washed off easily, even with ordinary water.
There was only one minus:
– The eyeliner dries out pretty quickly. I happened in different ways: sometimes it was enough for a month, sometimes for two. Depending on how often I used it.
Several times I was saved by a little trick – I wetted the tip of a felt pen with water, and then it was enough for another ten times. Only here the color in this case is not so saturated and you have to paint on the same place several times.
In general, I'm ready to forgive a single minus pencil. At the moment I am not even trying to find a thin line replacement. She firmly settled in a beautician.