Today, I have a negative attitude to extended nails, although in the recent past I was a lover of artificial manicure. There is an explanation. I know about the drawbacks of extended nails firsthand.
It was, it was, but it passed.
I will not delve into the technology of artificial nails. Separately, to talk about gel or acrylic manicure does not make sense, because this fashion trend today is known to all. There is hardly a girl who has never done a salon manicure. The difference in beauty and quality, and all the problems are the same.
Faced with extended nails, I was 5 years ago. As usual, for the company of a friend, I went to the salon. I really liked the master, equipment, atmosphere of the cabin. Also, the girlfriend's accolades have played their part. I made myself acrylic nails.
At that time I didn't have a child yet, I didn't particularly manage the housework, I didn't fry the meatballs. Therefore, my nails were an ornament to my carefree life.
With the advent of the child's nails began to bother me. I stopped going for correction, there was no time, so I decided to get rid of the nails. When I removed the invoice manicure, I was horrified by the poor condition of my native nails.
From that moment on, I no longer want to build up a manicure, and I'll tell you, readers of my post, about the drawbacks that I have highlighted for myself after several years of beauty.
Cons of extended nails
1. Correction. It should be carried out 1 time in 2-4 weeks, depending on your physiological features. It did not bore me, but the cost of such a procedure is not cheap. 50-80% of the cost of building. Still plays a big role place or salon in which you made capacity. Cheap places are dangerous to health.
2. It is necessary to watch the accrued nails with caution. Nails do not like cheap varnishes, the liquid of the day of removing varnish should not contain acetone. With such a manicure very carefully you need to handle household chemicals. He does not like washing dishes, washing powders.
3. If the nail breaks, then it oooooochen hurts! If we can even gnaw a normal fingernail slightly, then the accretion can break down so that it will damage even the upper part of the nail bed.
4. For such a procedure is a contraindication. If you have nail fungus diseases, then building it is forbidden to you.
After I removed the artificial nails, I could not get my own back for more than a year. The nails were brittle, yellow, exfoliated and cracked. I drank vitamins, smeared nails with various ointments, iodine, glycerin. The road to recovery was difficult.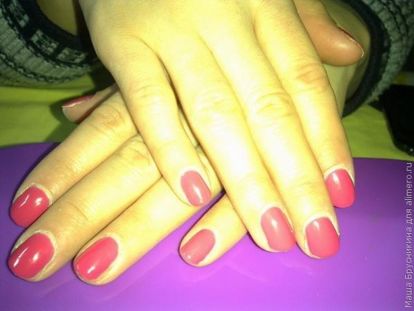 Now the nails are completely healthy. I prefer a clean, gently clipped nail, and I left 2 cm of beauty far in the past.
And how do you feel about extended nails?