Girls, today I will talk about the universal five-color eye palette from my cosmetic bag. This is a palette of an inexpensive, but well-known manufacturer – Nyx.
The manufacturer (PRC) promises a sweet life with a five-color palette, with perfectly matched shades. Shades are highly pigmented. Various color combinations will suit any skin type and eye color. In the collection of 14 color options. My shadows are in shade No. 5.
I won these shadows in a contest for one beauty blogger girl. I have long wanted to try the cosmetics of this manufacturer, but it did not come across to me. Therefore, I was doubly happy.
Packaging at the shadows, of course, looks cheap – simple transparent plastic with a black backing on the back. The castle is not flimsy, made in the form of a bow – such a trifle makes me very happy and attracts attention.
In the packing 2.4 g of shadows – 3 sectors of 0.3 g and 2 sectors of 0.7 g each. Inside the package there is a two-sided foam applicator, which I do not use, as I apply shadows with separate brushes.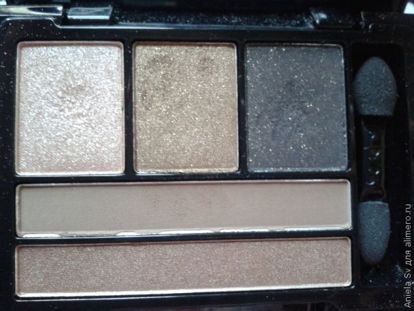 Shades and makeup
In the palette 5 shades in natural range. I'll tell you about everything in order.
The first shade – the upper left sector – is soft, easily typed on a brush, loose – light pink shade with a multitude of shimmers. I love to put it in the inner corners of the eye to emphasize and emphasize.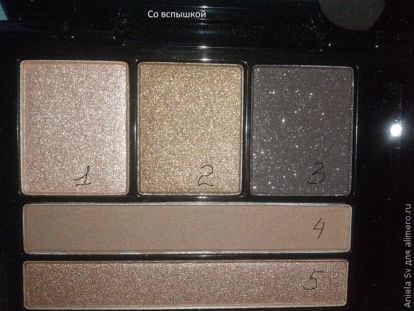 The second shade — upper middle — bronze with a multitude of shimmers — I use it as the main color for the entire upper eyelid. Also loose and soft.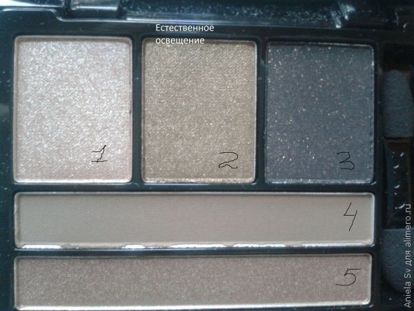 The third shade – the upper right – is a very beautiful black with a lot of golden chimmer. It looks very beautiful on the eyelid, both as the main color and as an arrow or darkening of the corners. I like to use it as an arrow in a wet way. Soft and loose.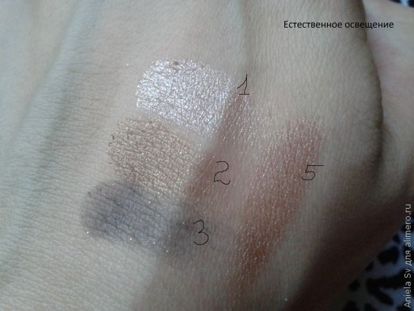 The following 2 shades are distinguished by the fact that they are very difficult to type on the brush, they are very tightly compressed and hardly give color – the upper one so I couldn't take a picture at all, so I don't use it – I don't see it on my face.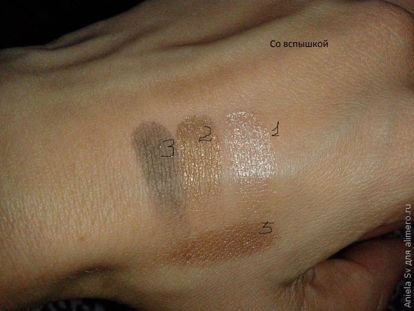 The lower shade almost repeats the upper left, only in it there is less than a shimmer. I also hardly use it in makeup.
I enjoy all the top shades. They make a nice light Smokey-makeup day. Shadows on the base are kept for about 8 hours, then they begin to gather in folds, I haven't applied them without a base, but I think it will not last an hour on my eyelids.
Beautiful shadows in a natural range. My favorite shade is black with a gold shimmer – it perfectly emphasizes my eyes. I can safely recommend to all girls. Price – I got a gift, but you can buy for 500 rubles without a discount.
Do you use Nyx cosmetics?