I love Nouba cosmetics for unique shades that are not found anywhere else. Today I will talk about baked four-fours in a shade of 628.
From the manufacturer
The manufacturer (Italy) promises a unique formula of shadows, rich shades and easy application. In the collection of 13 pallets.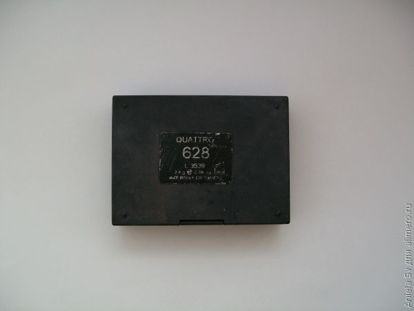 Packaging
Shadows are in a nice to touch matte black plastic box, but with time. Plastic wipes a little. Weight – 2.4 g. The box is comfortable, placed on the palm. Inside there is a plastic partition, a handy mirror and 2 black sponge.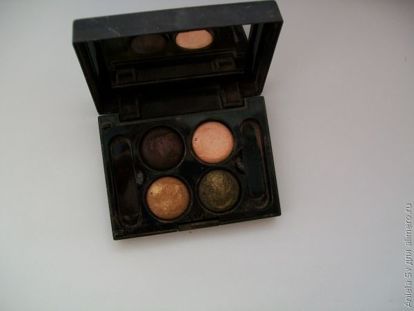 The lock is tight, snaps, does not cause inconvenience, the nails when opening does not break.
Shades and application
Shadows baked texture. Good, gently typed and render color. You can use native sponzhikami, and you can use special brushes. When using brushes turn out more translucent shades. Without a base a little faded, on the base are revealed, but the most beautiful color is obtained with wet application.

Shadows are easy to apply, blend and blend, if desired, can be layered without fear. On the base they hold all day, without shedding and gathering. No base is not used. I think that will not stand the whole day socks.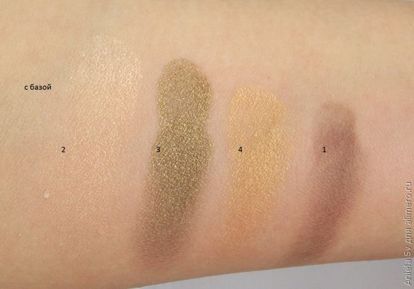 Hue 1 – translucent brown with a pink micro-meter. Perfect for darkening the outer corner of the eye and interspan space. The hardest typing shade.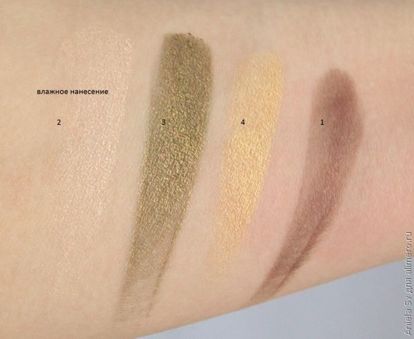 Hue 2 is a very soft, delicate pink and peach shade with a golden and pink micro-meter. My most frequently used shade is applied under the eyebrow, highlighting the inner corner of the eye. I often use it under the arrow.
Hue 3 – the star of the palette. Chic khaki tint with gold and pink microsimmer. Perfect for applying to the entire eyelid, for drawing arrows. Perfectly emphasizes the color of my eyes. The most beautiful shade in my opinion.
Hue 4 is an ambiguous shade of yellow gold with a numerous pink micro-meter. I do not use it very often in make-up, as it gives a little painful color to the eyes. It is necessary to use only with an arrow and carefully shade.
All the shadows, thanks to their texture and numerous shimmer, shimmer beautifully and twinkle in the sun and in the evening light.
Make up remover
Removed shadows easily. Removed in one motion with a cotton pad with micellar water or liquid to remove makeup from the eyelids.
Worthy baked shade for everyday use. Excellent shades, good durability and relatively low price (1100 rubles without discount), as well as cost-effectiveness allow any girl to be convinced of her flawlessness.