Cleansing the skin is one of the main stages of care, because it is necessary to clean the surface and pores of sebum, dust and cosmetics. Often, gels and facial cleansing dry up the skin too much, especially those that are intended for problematic and oily skin are sinful.
I have been using Normaderm Vichy Gel for several years now. I am attracted, firstly, by his cleansing abilities – after washing directly physically I feel the purity of the face; secondly, it does not dry out the skin, but on my cheeks it is dry; thirdly, I like the convenient dispenser and cost effectiveness.
The Normaderm series is designed for young, problem and oily skin. I have practically no inflammatory processes on the face, and if several pimples appear, the gel helps to cope with them. Also in the line of products include: makeup remover, tonic, exfoliating gel, mask 3 in 1.
The manufacturer claims that the means for deep cleansing normalizes skin health and relieves it of the main disadvantages: inflammation, enlarged pores, oily shine, redness, traces of acne, uneven complexion.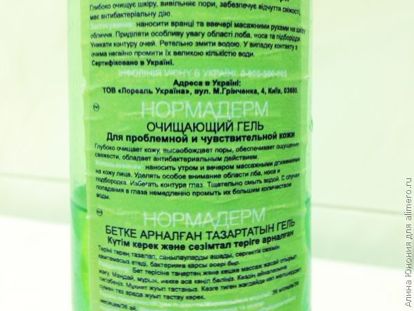 Also, do not forget that the entire range of Vichy cosmetics is suitable for sensitive skin and contains thermal water.
My skin does not cause me inconvenience, it is combined – the T-zone is oily and my cheeks are dry. Theoretically, any means can cope with its purification. From time to time I try other gels and facial wash – I often test probes and miniatures from budget to luxury-class cosmetics, and sometimes with soap washed.
But none of the products brought me such pleasure and gave me a feeling of freshness as described by me. Yes, there were good analogues – Biotherm, La Roche, but they did not possess phenomenal properties. And low-cost domestic production options left a feeling of fatness on the skin, i.e., they were not completely cleared.
Gel for deep cleansing from Vichy produced in two versions – bottles of 200 and 400 ml. the latter is equipped with a convenient dispenser, which is an important factor for me.
The cost of a large bottle is about 700 rubles. (170 UAH). The gel is quite economical to use – for one wash it is enough just to press the dispenser. With daily use (twice – in the morning and in the evening) a bottle of 400 ml capacity lasts exactly one year.
Also, the tool is often produced in the form of miniatures (50 ml), which can be obtained as a gift when buying Vichy cosmetics in pharmacies (or if you have a girlfriend who works there;)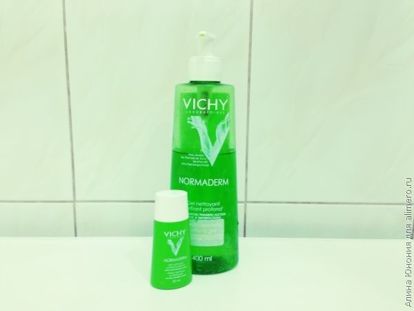 The consistency of the means is the most common – a transparent gel of light green color with a pleasant fresh smell, which after washing does not remain on the skin.
As they say, they don't look for good from good, so I don't plan to change the means for cleansing the face – with my task, the gel for deep cleansing from Vichy copes with a solid top five.
And with a combination of other products from the Normaderm line (in my case it is a 3 in 1 mask), the face simply shines from purity and freshness.
So, if you have prone to oily or combination skin, which may contain inflammatory processes, I recommend you to try Normaderm washing gel, I am sure you will like it!
Did you use funds from the Vichy Normaderm line?