With these products began my acquaintance with the Finnish brand Lumene. Confidence is very captivating the fact that in the composition of their cosmetics 90% natural products, as well as no parabens and synthetic dyes.
My skin is normal, mixed in the T-zone. In the summer, the nose and forehead glisten, so I do not use greasy creams. But it is necessary to restore and moisturize the skin, this is helped by three products from the Lumene Vitamin C series.
Vitamin C Pure Radiance 24H Lotion
The recovering balancing emulsion LUMENE VITAMIN C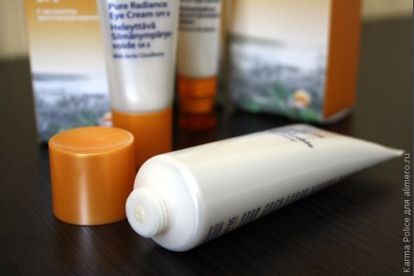 Texture emulsion like lotion or very light cream. The color is slightly yellowish, the smell is sourish and citrus, for me it is not particularly pleasant, but not chymose. It is absorbed quite quickly, it tingles in the first applications, then only after scrub. Did not cause irritation, but allergies, most likely, you must first test on a safe area of ​​the skin.
The manufacturer promised to matte the skin – I did not particularly notice it. But during the day the emulsion does not float, does not roll down, and normally holds cosmetics. I was given a good moisturizing without clogged pores. I smeared a tube of 50 ml for the end of spring and summer. It is worth an emulsion of 350-400 rubles.
Vitamin C Pure Radiance Eye Cream
Eye Cream LUMENE VITAMIN C SPF 6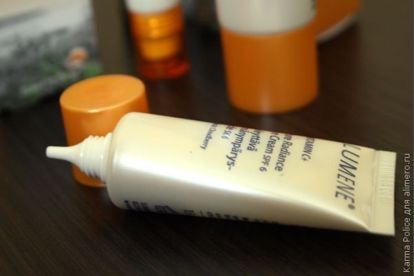 The skin around the eyes is very delicate and requires special care. The manufacturer promises us that this cream will restore the balance of moisture, refresh the skin and smooth out. In the cream, the loading dose of vitamin C is encapsulated and in the composition of the extract from the seeds of the arctic cloudberry. By the way, the Finns believe that their berries, grown in the harsh northern climate, have incredible strength.
In the end, after applying the skin shines. But make no mistake, it is not only vitamin C that has tried, there are light-reflecting pigments in the cream. And if it is poorly distributed, whitish stripes and stains will remain on the skin.
The cream is very economical. If the emulsion was enough for me for three or four months, then this tube of 15 ml was enough for almost a year. The price of the cream is around 240 rubles.
Lumene Vitamin C Anti-puffiness Roll-on Eye Serum
Roller applicator serum for the eye area

The serum has an interesting applicator – three iron balls. They should cool the skin and gently massage. It contains the same active ingredients as eye cream. The content of this tube is a clear, odorless gel. On the skin a little sticky, if you put the cream on top, it does not roll.
Serum could not cope with dark circles, and swelling decreased. Maybe you should have kept it in the fridge? The volume of product 10 ml, enough for me for four months. Price 340 rubles.