During the winter, my skin uses all the vitamins in the body. It becomes a bit flabby, dull, sensitive and dry. In such cases, I call upon a whole arsenal of masks for help. Below I share recipes. Maybe girls, you will also pick something up for yourself.
Imagine even finding it difficult to say exactly what my skin is. I, like a chameleon, change the skin type, depending on the time of year. After winter, it becomes a combination and sensitive.
During this period, one of my favorite masks is carrot. One tablespoon of finely grated carrots mixed with one protein, you can add a little flour, so that the mass was thicker. I apply on face for 10 minutes (I can not stand it anymore). Wash off with barely warm water.
Why do I prefer such a mask? The answer is simple. Carrots contain a lot of carotene, which moisturizes and rejuvenates the skin. And a huge amount of vitamin A, which softens the skin.
Another variant of the carrot mask, in the case of flaking of the skin, contains olive oil instead of protein. Olive oil not only prolongs the youth of the skin, but also perfectly nourishes the skin. Therefore, my combination skin can afford such a mask no more than 1 time in two weeks.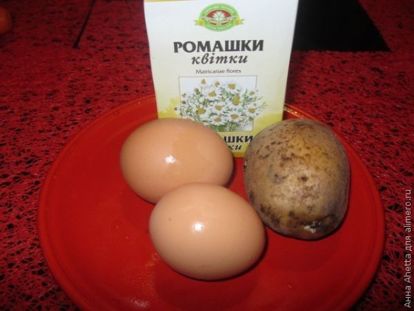 In order to calm sensitive skin, most often I use potatoes. But in this case, raw potatoes, about 1-1.5 tbsp. spoons, I mix already with the yolk. I also wear a mask on my face for 10-15 minutes. If suddenly there are no other ingredients besides potatoes, I suggest option # 2. Boil the potatoes together in their skins, then grind them into mashed potatoes, let them cool down a little and put them on the face.
The effect is guaranteed. The skin gets the necessary hydration, the flaking areas disappear.
Especially noticeable sedative effect after allergic rashes. Interestingly, in such a simple product I bring my skin into a very decent look.
Girls, I want to note that the element that can not be ignored in the care of the skin of the face in the spring, is its toning in the morning and cleansing before bedtime. Various skins and gels for washing help me in cleansing. And for toning there is a specially frozen chamomile ice. It pores, smoothes fine lines and refreshes the face.
Health and beauty!