If you use cosmetics properly, you can stop counting years.
Mascara Guerlain Cils D'Enfer
Luxury mascara Guerlain Cils D'Enfer number 1 I got as a gift from my mother. An unusual glossy bottle of gold color, rectangular with the inscription Guerlain is a dream and, probably, not only mine, but all women. Round thick brush without bending envelops the cilia and generously lengthens them.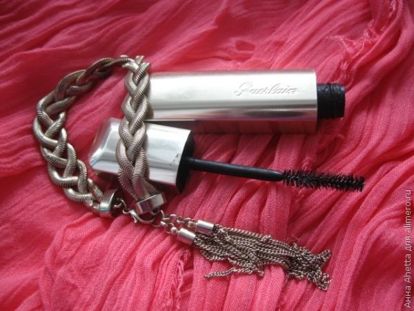 Not very rigid fiber brushes give an extraordinary elastic volume and deep color. Do not leave lumps on the cilia. The fragrance of the tenderest rose, in my opinion, is the highlight of all Gerleshek. This perfume makes the use of mascara as enjoyable as possible. This gorgeous smell haunts me for some time after application.
Keeps on the cilia all day, without shedding and smearing. From the first time it is quite difficult to wash it off. I rarely use the wash, mostly gels and foams. But this little nuance did not spoil the overall impression. I clarified the price from my mother, about $ 30, in order to navigate in the future. Now I have included this mascara in the list of permanent residents of my cosmetic bag.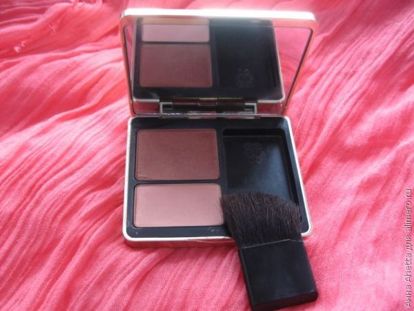 At the time when our acquaintance with mascara was happening, my blush ended. And what do you think, in the direction of which manufacturer looked my eyes? Quite right, I decided that the rouge should definitely be Guerlain. I did not have to hesitate for a long time, my attention was immediately attracted by the same golden mirror box with engraving.
Blush ROSE blush duo shade number 5 – this is my first luxury blush. I really wanted to double. You can use one, then others, and you can mix, for a change. Some that are darker contain a small shimmer. Others are lighter and matte.
The box is cool, on a magnet. It was sold together with a case, which allows me to keep the look of my favorites. Inside the mirror is the size of the entire area of ​​the lid. Comes with a flat brush with an angled bristle, a bit rare, in my opinion. The size of the brush allows you to apply the required amount of rouge in one motion.
Rumyashki persistent and odorous. In the morning, as a make-up, until the evening the beauty and order. Due to the moderate pigmentation of these blush, makeup looks fresh and natural. They cost around $ 40, but for such it is not a pity.