As I have written more than once, make-up delights on the face are not my forte. I choose the tools that quickly and easily draw what you need. Such wonderful pencil Pupa Multiplay Triple Purpose Eye Pencil unambiguously refers to such assistants in a quick morning make-up.
I bought it for the first time by chance, without having previously studied reviews on the Internet, I really liked the color at number # 08. By the way, it cost about 250 rubles (in some stores the price reaches 350 rubles). But considering that this is my must have, I forgive him such a price (I always thought that eyeliners should not be more than 200 rubles).
Description and manufacturer promises
This pencil is listed as three in one: combines the shadows, eyeliner and the pencil itself. Creamy texture, bright color and durability, this pencil can also be used on mucous like kayal.
Volume 1.2 grams. A huge palette of colors. On the back there is a latex applicator for feathering.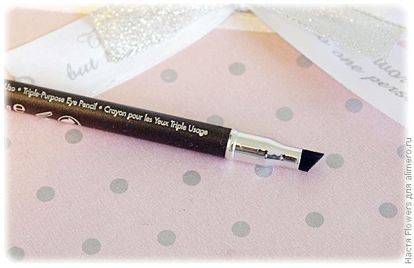 In the composition you can find jojoba oil, cotton seed and vitamin E.
Appearance and palette

In the line of about 20 a variety of colors. The color of the slate corresponds to the color of the pencil body, it is convenient to choose. On the back is a sponge with a beveled end. It seemed to me not very convenient, I prefer to shade with my fingers.
Having tasted a brown tint, I decided to get some more color and chose green at number 14.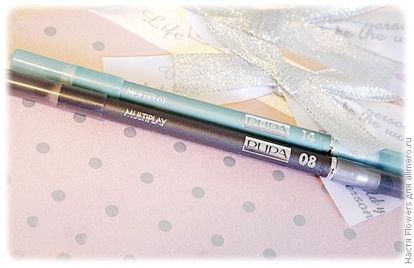 To be honest, I almost never use green. bright makeup do not. The color is very beautiful, but unfortunately, I use it very, very rarely.
My impression

The first thing you want to highlight is the texture of the pencil – it is incredibly soft, creamy, delicate, slides over the eye, without scratching anything. You can draw over the shadows, it fits perfectly, and is also easily shaded with a finger or a synthetic brush.
The second thing that won me over is the color! I find it difficult to convey it, but I will try. It is a brown-gray shade, with a sheen and small sparkles. In the sun, it seems to me that even a little lilac overflows. Very interesting, not classic brown, but not provocative. Ideal for office and day makeup.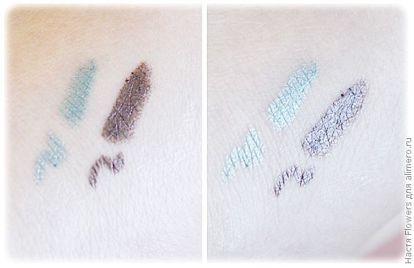 Despite its creaminess, after the pencil hardens, it is already difficult to erase it from the eyes. On my age, it keeps during the day, and if on the base, then it's generally perfect.
Perfect pencil for quick make up

Most of the time I use this pencil as a shadow, put it in the corner of my eye and on the outer part of the moving eyelid, feather with my finger, add mascara – and eye makeup is ready in just a matter of seconds!
I also hide their flaws from the carcass. Every time I touch the upper eyelid with a little ink and remain inaccurate dots. So with the help of Multiplay Triple Purpose Eye Pencil they are easy to hide. It is enough to pass from above, as if drawing the line again – and the mascara overlaps perfectly, as if it was not on the eyelid.
In general, this is my favorite pencil, which as soon as it ends – I immediately run for a new one!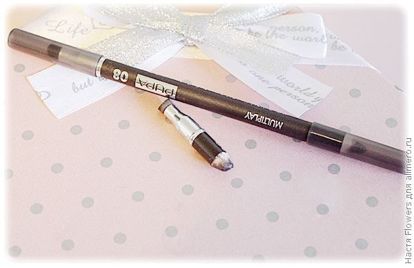 I will note one thing but – this pencil is not suitable for clear thin arrows and for drawing the inter-play space, since It is very soft and creamy. But for that I love him.