I want to share with readers my opinion on makeup removers.
1. Tonic Gloris
It does not say that it is a tonic for removing make-up, but the seller in the store advised him for that purpose.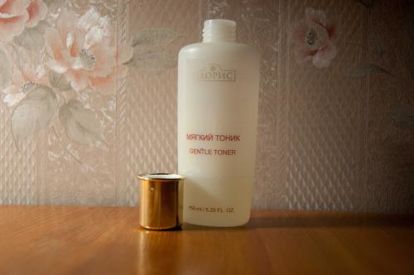 To be honest, I did not expect such an effect, I thought – just another deception, but the company is good and the price did not bite, only 380 rubles.
In fact, perfectly removes makeup: the usual not resistant foundation, powder, eye shadow and mascara. It does not dry the skin after itself, it is just a huge plus! It has a pleasant delicate aroma, does not give a feeling of tightness. After it, you do not need to wash with plain water. If, after a hard day, you do not want too much fuss, you can use this tonic and quickly go to bed.
I can also say that the tonic can be used without makeup, for example, on a hot summer day, it is enough just to put a little bit on cotton sponge and rub your face. Very refreshing, in general, for me, just an irreplaceable thing!
2. Garnier Gentle Care
This is a very interesting tool I found in search of something good and inexpensive to remove permanent makeup.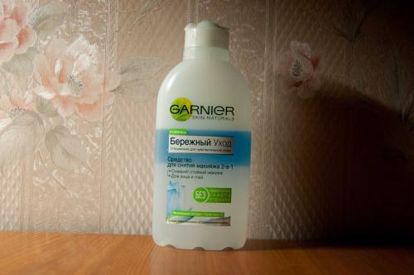 Bought for 180 rubles. Enough for a long time. A bit annoying is the need to constantly shake it, especially when everyone is already asleep.
Practically no odor, pretty good removes resistant cosmetics, so do not have to wake up in the morning with black stripes under the eyes. This is a very pleasant fact!
Although this tool has several drawbacks. First, I feel that after it remains an oily film on the face, it is very unpleasant, as if the skin is anointed with fat. We have to wash water.
Secondly, it dries eyes. Yes, it dries. After using it, you should either go to bed right away, or lie down for 10 minutes with your eyes closed, otherwise you will have to squint, or come up with any other ways to look.
I would put 4.
3. Maybelline expert eyes

I don't already have this thing, but I would like to tell you about it. This tool is one continuous positive moment! Direct hit on the apple from the first time, because it was my first. Although this tool is not for resistant makeup, but the usual shoots straight, as if by a magic wand!
Does not dry the skin, does not tighten the skin around the eyes, has a light pleasant aroma that can barely be caught. Also, it does not need to be washed off with water after use.
It's just a pity, I just can't find it in my city, so I have to experiment … Score – 5+!