I love shampoos. Why love them ?, you ask. I love shampoos and balms for the feeling of freshness and relief that they give. There is a bad mood, or everything falls from the hands or universal laziness has piled on, and a lot of cases. For me, the first panacea is to wash your hair. Refresh not only your hair, but your entire head.
Also, I honestly do not understand why some girls dislike them. Just imagine, a nice looking girl, as a whole, looks good. And when considering the details, sometimes comes the disappointment of what he saw. And all from unwashed hair.
I think the best decoration of the head is fresh, well-groomed, shiny hair.
I tried many shampoos. And, respectively, balsams. I choose most often a couple – shampoo and balm for it. Without balm, my hair is like a sponge, from any shampoo. From the most expensive (which I can afford) to cheap.
Today I want to share with you a review of shampoo and hair balm GARNIER Natural care Avocado and Karite.
Let's start with shampoo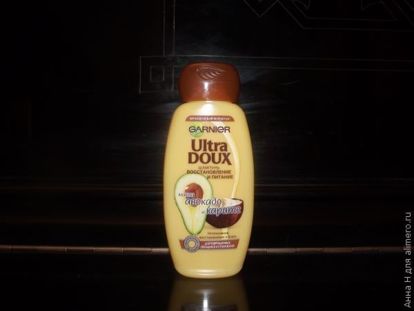 Positioned as a shampoo for damaged, split ends. The manufacturer promises a lot of wonderful things that will happen to your hair after using this shampoo. I will not write all this here.
So,
what you liked:
– shampoo rather liquid
– easy to foam, easy to wash off
– economical consumption (enough pea for washing hair on the shoulders)
– very pleasant smell
– tempting price
What did not like:
-after using only shampoo, hair like a sponge, and combing them was not possible. I think it is not a very big minus, as it seems the specificity of my hair, I do not wash my hair without a balm.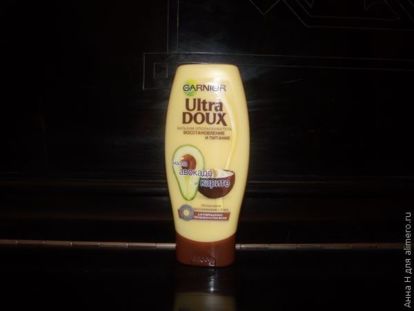 What you liked:
– nice smell
– convenient bottle, cap down
– liquid consistency
– easy to apply, easy to wash off
– easy combing
– hair is very pleasant to the touch, like a child
What did not like:
– I can't say anything bad about a balsam. Really like.
So let's summarize. Not a bad couple for this price category. Not quite successful shampoo more than compensates for a very soft and pleasantly smelling balm.
In general, I love this series, I tried almost all kinds. All have a very pleasant aroma and all have the same liquid consistency. Recommend.
I would like to see other reviews about this product.