Mosaic of boxes with your favorite shadows
Shadows L'Oreal Color Appeal Platinum, L'Oreal Color Appeal Holographic, L'Oreal Color Appeal Chrome Shine, BeYu, Estee Lauder 47 and Estee Lauder 13, YSL, Fennel
The most favorite shadows of them are Trinity from L'Oreal:
L'Oreal Color Appeal Platinum, L'Oreal Color Appeal Holographic, L'Oreal Color Appeal Chrome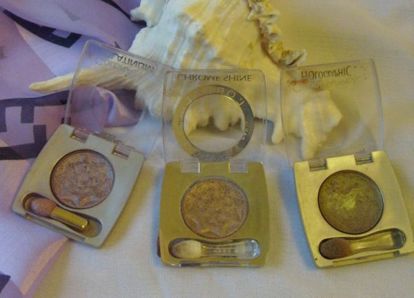 Cosmetics Reviews


L'Oreal Color Appeal Platinum 153 pink brown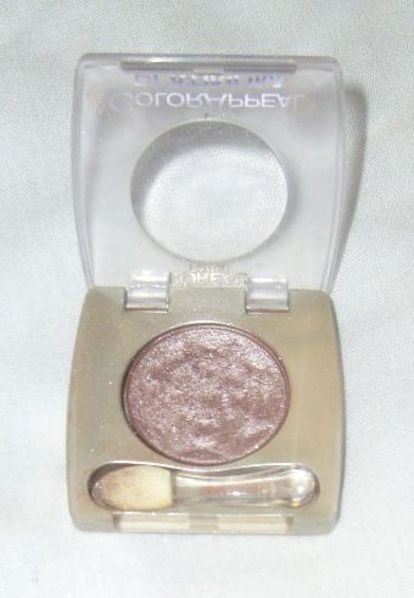 I bought it in L'Etoile in the winter of 2009, at first I chose completely different shadows, but I was in a hurry and accidentally took the wrong ones, but I discovered the mistake already at home the next morning. Very upset, because the color of plum is not mine. I decided to try and put it – the effect was awful O_O.
With my ash-colored hair, very fair skin and gray-blue eyes with these shadows, I looked like a rabbit sick with a cold, especially on an early winter morning. But after a holiday with tanned skin, this color in combination with a lip gloss in tone looked different, beautifully emphasized the eyes.
When I repainted in a red color, these shadows played on my face in a new way, gave expressiveness and brightness, the color of the eyes looked piercingly blue.

As pluses: there is a wand for application, the shadows lie flat, do not create lumps, the border is not smeared, if you do not rub your eyes, they stay all day in the morning, you can not update until the evening, you are not afraid of splashing water, they are washed off with the usual means for washing.
Of the minuses: The texture for my sensitive eyelids is a little rough.
Recommendation: If applied to a cream that is not fully absorbed, it will result in a wet effect, they will last longer
L'Oreal Color Appeal Holographic 104 Bronze Meteor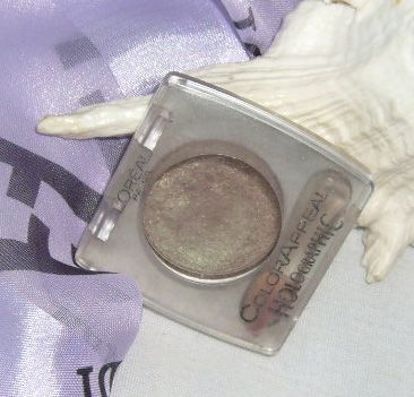 Itself did not use such colors, but for the sake of experiment I tried to apply it. It turned out not bad, when turning the head and moving the light on the eyelids, a hologram effect appears, when the bronze flows into brown, then into greenish-marsh and back.
Also unobtrusive gleaming shimmer. Attention to the eyes is provided!
Pros: stick for application is, even application without lumps, resistant, not very dense, transparent, easily washed off.
Minuses: rough texture for my sensitive eyelids, demanding specific color effect.
Recommendation: for everyday makeup, apply one layer of shadows, and for evening make up – add another layer, then shimmer will be brighter

L'Oreal Color Appeal Chrome 172 shining beige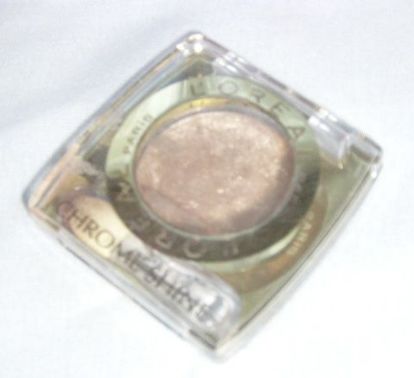 Bought before the New Year 2011 and still do not like it! The mood is already improving when I open this box and take a brush. This magic gold dust turns an ordinary make-up into a festive, regardless of the time of year or day.
One movement of the brush over the eyelid is enough and the makeup is ready, the eyes sparkled with the sparkles and shine of the iridescent particles.
To enhance the effect, I apply not only to the upper eyelid, I add a small smear a little higher above the outer edge of the eye, closer to the end of the eyebrow, and to the lower eyelid along the lash line. Cleopatra's fascinating glance – at least!
Of the benefits: stick for applying, delicate thick texture, resistant, easy to make a festive makeup with their help.


Minuses: not detected!


Recommendation: do not combine these shadows with other shadows – they will lose their spectacular shimmer, fade and crumble