I finally decided to write a review on my lipstick paradise))), which is based on Mary Kay creme lipstick lipstick.
To be honest, I find it difficult to say how much lipstick I have from this particular series, but it's too lazy to consider them. But in any case, more than a dozen. This suggests that I like them. Of course, if it were different, I would not buy them in such quantity.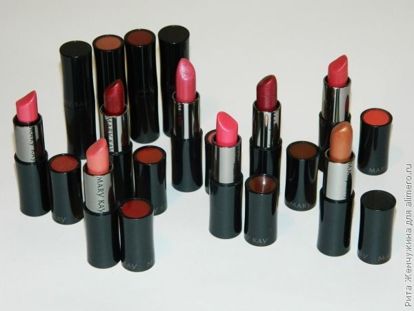 Description from the manufacturer
The product guide for this type of lipstick states the following:
– gives rich shades
– long keeps color intensity
– protects lips from moisture loss
– softens and moisturizes lips
– has a creamy structure
– suitable for sensitive skin
– has been tested for allergenicity
– contains derivatives of vitamins C and E, apricot kernel oil and castor oil, carnauba and candelilla wax
In general, lipsticks go in boxes, but I have not one left. As for me, it makes no sense to keep these papers, only the inconvenience of use and nothing else. And without them, you can immediately see which shade to take: on top of each case this color is present. Very comfortably. Especially when lipstick is a lot.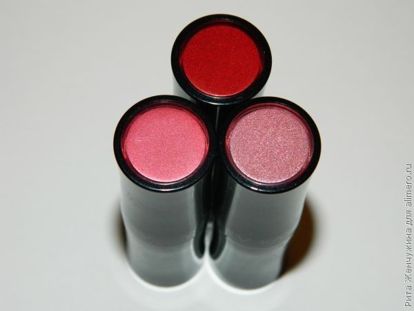 The case itself is black, decorated concisely and stylishly. I really like! I also have no complaints about the strength of the material, I have never had any cracks. Volume: 3.6 g. Price varies slightly from time to time, but mostly holds about 500 rubles.
Shades and aroma
I decided not to write about any one shade. It makes no sense to allocate it, because All these lipsticks are of the same quality, as it should be in one line.
As you can see from the photo, I have different colors: pink, strawberry, cherry, chocolate, coral of different saturation. There is a matte, there are pearl.
The smell is palpable, but not intrusive, pleasant lipstick, slightly sweet, vanilla.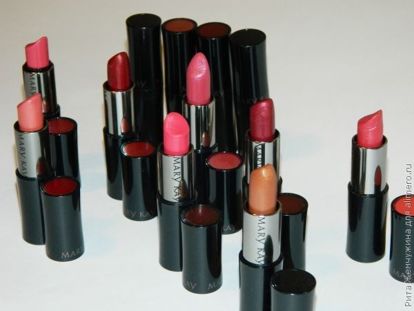 Texture and application
The texture of the lipstick is delicate, as described by the manufacturer, creamy, but dense. During the application and stay on the lips only the most pleasant sensations.
It does not spread beyond the contour of the lips. Persistence also suits me completely: it lasts for about 5 hours, even though the shade turns pale. I must say that on healthy lips it almost does not clog up in the folds, and if they are chapped, then there is still such an effect. But he does not catch the eye and is visible only on close examination.
I have sensitive skin and sometimes my lips dry. Fortunately for me, this lipstick saves me, really having a moisturizing effect. No allergies have ever been. On the lips it is barely perceptible, there is no effect of a heavy layer. Lies very, very smooth.
Shades are really bright, saturated, rather persistent. Enough to apply in one layer to get the desired color. It comes off gradually and evenly: no balls and no rolls on the corners.
This lipstick is an indispensable attribute of good makeup for me, so I always carry it in my makeup bag with me. Of course, it is worth the money spent on it!