I really love lipstick. I have so many of them that they do not fit in a cosmetic bag. Therefore, I keep this wealth in a special case. Recently, I went to the store for a new shampoo. But, as you understand, my shopping was not limited to the purchase of shampoo. I returned home with new shadows and fudge.
My dream shade
Most often, I paint the sponge in bright pastel shades. But I really wanted to buy a bright lipstick. Red does not suit me (oh, what a pity!). Through trial and error, I determined that coral and carrot lipsticks go to me. But even among these shades I could not find the perfect one. It's a shame, but two expensive lipsticks are idle: one of them turned out to be too bright, and the shade of the other did not fit well with my skin.
In the store, I first went to the stand with the red price tags (well, I can not resist sales!). TF company sweets attracted my attention with bright golden packaging and more than a pleasant price – only 150 rubles (48 UAH). Choosing a shade among testers, which seemed to me as close as possible to the shade of my dream, I put a little lipstick on my lips with a cotton swab.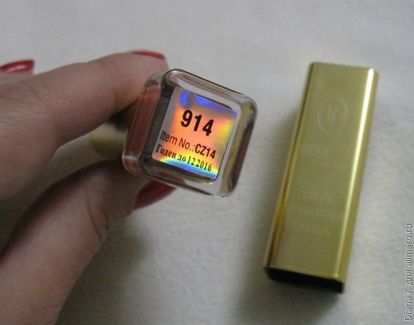 It was just the shade I was looking for so long! He looked perfect on my lips, and besides, he perfectly approached my coral-colored down jacket 🙂 I hadn't been thinking about the purchase for a long time.
Lipstick firm TF Color Revolution lipstick packed in a classic golden case. It is very convenient that, without opening it, you can see the shade of lipstick – the lower part of the case is made of transparent plastic. Lipstick weighs 3.8 g. I think that's enough for me for a long time. Manufacturing country – Poland.
Nutrition and hydration
I liked the fact that the bottle has a sticker with information about the product in Russian. The composition of the fudge includes the following components: castor oil, candelilla wax, carnauba wax, microcrystalline wax. Thanks to castor oil, lipstick very gently falls on the lips.
At the time of purchase, my skin was slightly overdried – there was a strong wind outside. After I painted my lips, they instantly became softer and more moist.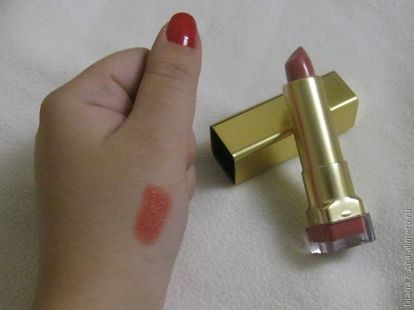 After going to the store, I went to the hairdresser, where I spent about 3 hours (haircut and dyeing). When I returned home in the evening, the lipstick was still on my lips. The color, of course, was no longer as bright as after application.
I recommend everyone TF Color Revolution lipstick. I am delighted with her!
Did you use the cosmetics of this company? What are your impressions?