I really like silver jewelry. Gold, nickel silver, alloys and jewelry – absolutely not mine. But silver is yes.
Firstly, silverware is relatively inexpensive, and secondly, as for me, it is in this category of jewelry that there is a large selection of rings, earrings, sets, bracelets. Well, it seems to me.

The first acquaintance with silver

I remember how now. I was 17 years old and my grandmother brought me to a jewelry store to choose a gift. I was so surprised then! Before that, I had never been given any decorations for the holidays, but here!

With that grandmother wanted to give something of gold, but I liked the silver jewelry more, and I convinced her that for me the silver ring would be better. In general, I stood at the window for a long time and chose a present for myself.
In the end, the choice fell on a small ring of blackened silver. And since silver is much cheaper than gold and my grandmother was counting on a different gift amount, I was also offered to choose earrings.
Perhaps then it all started. It's been 15 years, and then the ring and earrings are still the pearl in my jewelry. No, they do not stand out in any way, no original pattern or limited edition. It's just a memory, it's a start.
For all these years, treasures have increased: rings, earrings, bracelets, pendants and chains. They gave something, bought some copies by themselves.
Despite the fact that I do not stick to one line, the mood of the earrings and rings are all different: this is a massive rectangular ring with a tree image and a small gentle one with tiny pheonite, earrings in the form of fish skeletons and small carnations-dragonfly, factory silver and author's works.
What will be on the fingers and in the ears depends on my mood and, of course, the clothes that I wear. I like to make ensembles in which everything is calculated to the smallest detail!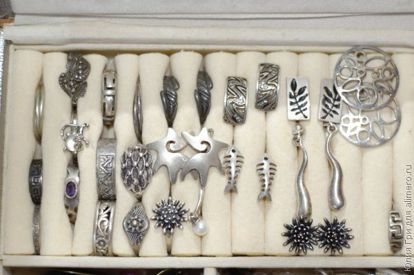 Not without fun stories … My daughter somehow got sick and needed to measure the temperature. But she does not like this thing very much. But, there is one forbidden fruit in our house and a very desirable one for it – my jewelry box.
Well, I didn't think of anything better than how to let her play mom, taking from her in return a promise that she would take the temperature.
My daughter has already measured the temperature and gave the thermometer, spent the next fitting of all the rings on all the fingers and now laid them on the shelf of the furniture set, which is popularly called the wall.
Do you know such a miracle of the Soviet period? Usually stands in the hall along one wall. Even when the wallpaper is glueed, it is not touched, it stands still.
Apparently, they move it twice: when they bring it into the house, and when they take it out forever without a chance to return.
In general, my child somehow managed to throw half of the rings for this very wall in one fell swoop. The technical capability of one of the departments allowed it.
To say that I was upset – to say nothing. I understood that for the sake of my jewelry no one would move the wall. In the end, with some tricks, with the help of all the tools at hand, I extracted my treasures.
Dear readers, what kind of jewelry do you like? And are there any funny stories related to them?