A few years ago, the nude color boom started, but the choice was not very big then. Time passed, and an incredible amount of products appeared on the cosmetic market, including nude shades.
I have a long tremulous and tender love with the firm Pupa, so when I saw beautiful bottles of lipstick called Miss Pupa, I immediately began to study the palette and think about buying.
Among the large selection of shades, I was most interested in nude-fudge numbered 100 with the delicious name Cream. By the way, the smell of lipstick is also creamy, and I want to eat it!
Miss Pupa Ultra Brilliant Lipstick

The manufacturer promises that this lipstick is ultra-radiant, with a gel-like melting texture and a transparent coating that creates the effect of moist lips. It contains natural extracts of waxes, as well as cotton, which moisturizes and nourishes lips.
The bottle in my opinion beautiful, silver, with a concise Miss Pupa inscription. It closes very tightly, the lid will not fly off in your purse. Inside under the cap hides the red color of plastic, it makes me very happy and uplifting.
Give two!

This lipstick just conquered me, a delicate, creamy texture, a tremendous delicious smell, easy application. I was so pleased with the number 100, that after a few days I ran after another shade, already bright, 304, with the equally delicious name Divine Raspberry (divine raspberry).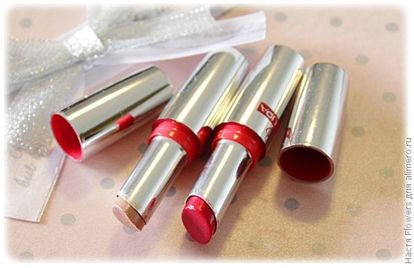 These sweets with a volume of 2.4 ml are in the range of 300-400 rubles. There is an SPF 15 sun protection factor.
A total of 30 shades in the line, for convenience, they are divided into 6 groups of 5 shades each: charming nude, sweet and fabulous pink, passionate red, luxury beige and orange. So anyone will find a shade to your taste.
Creamy nude and juicy raspberry

100 shade of lipstick is a beautiful natural shade with a shimmer, light beige, without a reddish or pink subton. I have not yet met such beautiful nude lipsticks, usually on my lips, or the effect of a dead man, or some kind of indistinct red tint, or as putty, and here a beautiful cream color.
304 hue is also not inferior – beautiful, juicy, brilliant. This ripe raspberry.
Impressions

Both have lipstick melting pleasant texture, while lipstick does not spread out over the contour, it lies well. Of course, if there is peeling, it may not look very beautiful, but on smooth lips there will be no such problems. The finish is beautiful glossy, with time lipstick absorbs a little and loses its wet effect. The sun just shines!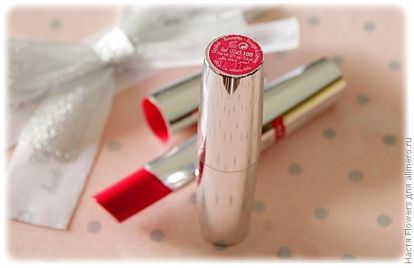 Keeps quite well for gel lipstick, about 3-4 hours, then it will be necessary to update. Color disappears gradually, without bald spots.
I rarely paint lips with lipstick, because I couldn't find a pleasant texture and colors, Miss Pupa was an exception for me, I love these sweets and often use them.
What are your favorite lip treatments?