Actually, I'm a big lazy guy. I already turned 30, but I still can not persuade myself to nightly facial treatments. I understand that this is pleasant, and it is thanks to such rituals that we feel the fullness of life. But no! If I get very tired, then calmly go to bed, just by washing my face with water.

My skin type
I have a combination skin, more prone to fat. Periodically, especially before menstruation, rashes appear on the face. Propensity to allergic reactions to personal care products did not notice. Although the skin is quite delicate: it turns red from any unsuccessful touch with fingers or brush.

Care products NIVEA VISAGE
And yet, at times, my feminine essence wakes up with me, and I begin to strengthenly take care of my face. The NIVEA VISAGE brand products help me with this:
1. Soft facial scrub
2. Refreshing gel for washing,
3. Refreshing tonic
4. Beautiful skin moisturizer,
5. Eye contour cream Beautiful skin.
So let's start with cleansing.

NIVEA soft facial scrub for normal and combination skin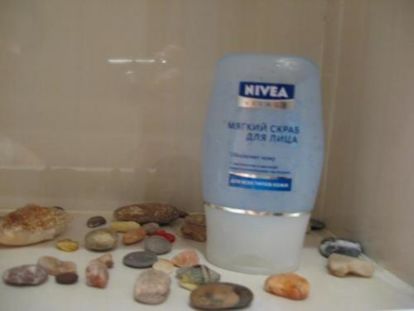 Scrub suits me completely. It is ideally suited to my skin type, extremely soft, the skin after application does not redden or hurt. Nice, unobtrusive smell. I use it, as a rule, 2 times a week after a bath.
The skin of the face becomes so tender-tender. In the summer in general, beauty – I go to the bath, sit and take a steam, the pores will open, and here it is just right to use a scrub. The effect exceeds all expectations.

Rating: 5+.

NIVEA refreshing facial wash gel for normal and combination skin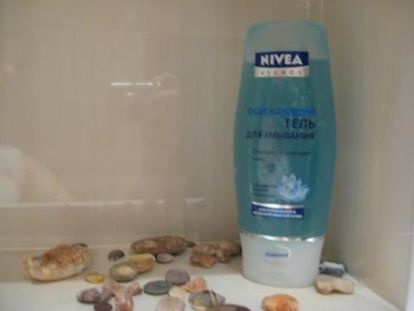 I like gel much more, than a milk. I do not like rubbing my face with cotton swabs, it is more convenient for me to apply the gel on a wet face, and then wash it off with warm water. After using the gel, the skin appears fresh and rested. I apply it once a day – in the evening – when you need to remove makeup and clean the skin.

Minuses:
Tiny such a minus can be put for the fact that the gel is washed off for a long time. This, given the fact that I put it not only on the face, but also on the neck and décolleté.

Rating: five-.

NIVEA refreshing tonic for normal and combination skin
Tonic effectively removes debris on the face. After use there is no feeling of discomfort and tightness of the skin. Tonic in an instant refreshes the skin of the face, which is especially important in the morning. Fast spill guaranteed! I apply it twice a day – in the morning and in the evening.

Rating: five.
Now, if I am not mistaken, this line of care products is called Beauty and Freshness.
And now for the humidification.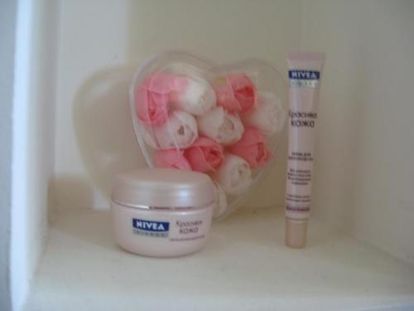 NIVEA day moisturizer beautiful skin for all skin types

Pros:
I chose this particular cream, because I categorically do not accept tonal tools due to the mask effect. But you should have an even skin tone!
Cream Beautiful skin is quickly absorbed, without leaving behind a greasy film. It smells good.
Special reflective particles contained in this cream perfectly align the complexion and give the skin a healthy look. I immediately apply powder on it.
I have enough of this cream for the whole day, and no matter where I am – I cook at home, walk with my child, do yoga or go to the theater.

Minuses:
Reflective particles for the first time after application give the skin, prone to fat, extra shine. But literally in 10-15 minutes this effect disappears.

Rating: five-.

NIVEA eye contour cream Beautiful skin for all skin types


Pros:
I use this cream because of problems with dark circles under the eyes, especially if you sit and work at night. I put a little of this cream on the outer contour of the eye just before falling asleep. The next morning, the skin under the eyes is healthy and radiant. Cream perfectly moisturizes.

Minuses:
There is an effect of skin tightness, so in the morning I wash well under the eyes with warm water.

Rating: four.

Instead of a resume
NIVEA VISAGE face care products are relatively inexpensive – no more than 250 rubles. But, in my opinion, this does not affect the quality of products. In general, not all is gold that glitters.