Micellar water is a relative novelty in the market of makeup remover. Its peculiarity in the composition – such water contains aqueous solutions of fatty acid esters – the so-called micelles, which attract dirt and cosmetics without damaging the skin.
Micellar water was used for a long time for medicinal purposes – to cleanse the skin of those patients who could not wash with water due to skin diseases. Cosmetics companies have noticed its amazing properties, and now almost every brand produces its micellar water. Today I will talk about micellar water brand Loreal Paris Absolute tenderness for dry and sensitive skin.

From the manufacturer
Manufacturer (Germany) promises to improve the condition of dry and sensitive skin, the transformation and its softening. Makeup removal is now simple, does not require friction and rinsing. Suitable for face, eyes and lips. Tested by dermatologists and ophthalmologists.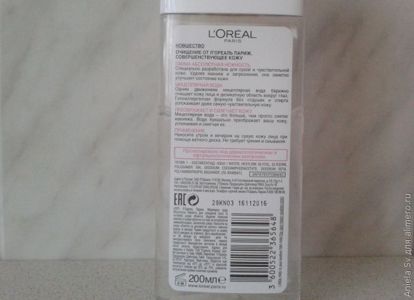 Detailed opinion
Water is in a clear plastic bottle with a volume of 200 ml. The bottle is very comfortable to hold in your hand due to the rectangular shape, nothing slips out. The lid is comfortable, folding, snaps, the product does not spill. The water is absolutely clear, odorless. In the composition – water, glycerin, fatty acid esters.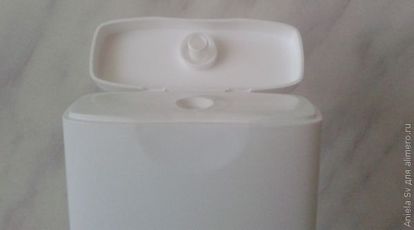 I wash off her unstable makeup. Water will not cope with waterproof cosmetics, yet its peculiarity is its respect for the skin, but the manufacturer does not promise to remove the resistant cosmetics. Water is very soft to the skin, does not dry it, does not leave a film. One cotton pad is enough to remove makeup from the eyes, face and lips.
The manufacturer says that it can not be washed off, but I still wash off and additionally wash with foam. Yet this is a chemical solution, and how it behaves on the skin, if applied over the cream, I do not know and do not want to risk. Price – 120 rubles.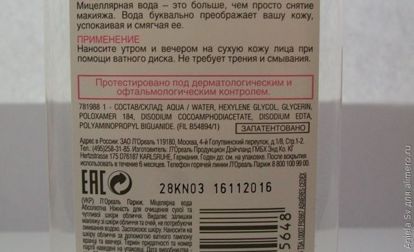 A worthy makeup remover, provided that you do not use makeup resistant. The democratic price allows you to try the tool without damage to the wallet, and you will be satisfied with the result.
Do you use micellar waters?