Have you ever wanted to decorate yourself with a beautiful body pattern? If yes, then this article is for you. We will talk about temporary henna tattoos, which are called mehendi, or abbreviated – Mehndi, Hindi.
I heard about henna tattoos many times. But to see live, and even more to try, I, until recently, did not have to.
And finally, I checked everything on myself. And today I decided to write about Mehndi.
Briefly from the history of Mehndi
It turns out that the art of mehendi was originally laid in Egypt several thousand years ago. And then it moved securely and permanently consolidated in India. There and to this day use this technique for decoration, as well as for certain rituals.
In India, it is believed that henna body drawing attracts good luck, protects against the evil eye and brings happiness. If before the wedding ceremony to paint the bride with a beautiful pattern of henna, and to bury the remains of dry henna in the ground, this will help preserve the family hearth and prevent her husband from cheating.
We have long used this technique just to decorate the body. Now, in my opinion, in every beauty salon, there is a service to create a temporary henna tattoo.
How I did a temporary henna tattoo
I managed to make Mehndi just a couple of days ago. The Indian exhibition came to our city and it was there that I made my first temporary henna tattoo.
I was made by her real Indian, who understood very poorly and spoke Russian. From her vocabulary there were only 3 words: Hi, three hundred and yes. It is good that there were Russian girls who could answer my questions.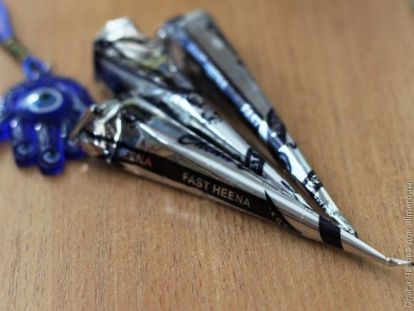 Drawing drawing lasted two minutes and three. After which it was necessary that the henna dried.
This happened in about 30 minutes. Dried henna began to peel off. I shook off the remains of henna and left an Indian pattern on my hand. The picture remained quite bright and clear. Over time, it will fade and wash off. And what he means, honestly, I do not know.
As I was told, Mendy lasts two weeks. Well, let's see how it will be.
Having been at the exhibition, I bought a few bags for self-applying mehndi. I will soon do.
And also I want to prepare a mixture for mehndi on my own. I have a recipe. What comes out of this, I will tell in my next article on the art of Mehndi.