Whatever you say, and an important part of the image of any woman is how she watches her hands. Someone in the pursuit of beauty chooses salon care, someone – home treatments.
My today's topic, I think, will be of more interest to those who chose home care for their hands. I want to share my feedback on the tool for the correction of manicure in pencil from the brand Oriflame.
My indispensable assistant

I have to say that I prefer to do the manicure myself, but not because of the money saved on trips to the beauty salon. I just have not met such a master who would have made a manicure better for me than I do myself.
I do not want to boast, but I do not have a burr on my fingers, cuts to the blood, poorly processed cuticle and other troubles that have happened to me after visiting the beauty salon.
Maybe I just had no luck with the masters, I do not argue. Only after a couple of experiments, I decided – that's enough, I will do the manicure myself. And everything would be fine, only I didn't manage to paint my nails neatly.
This is where Oriflame's corrector pencil came to the rescue.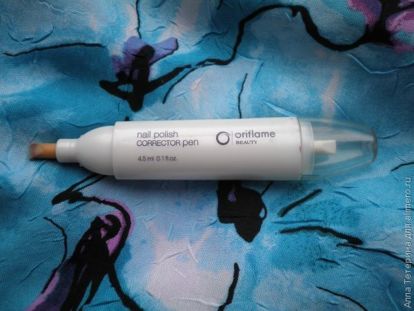 Whether the pen or pencil

Although this thing is called a tool for correcting a manicure in a pencil, but the principle of its action is more like a felt-tip pen that does not draw, but on the contrary easily and quickly removes excess varnish from the cuticle and skin of the fingers.
This pencil was made (in any case, the one that I purchased) in France. Its volume is 4.5 ml. The product has a pleasant oily texture (due to the sweet almond oil in the composition) and a delicate pleasant aroma. Contrary to expectations, the pencil does not smell like solvent.
The pencil has two rods, one of them spare under the transparent cap. The rods have a thin wide tip that easily removes even the most resistant varnish.

The price of this pencil is 250 rubles. Perhaps someone will find such an acquisition an expensive pleasure, but believe my experience: this proofreader will serve you for a very, very long time.
My pencil is more than five years old, but it does not even think of drying out or running out. I think that even when it dries or ends, you can try to fill it with nail polish remover.
How to use this tool

The process of using this pen-pencil to disgrace is simple:
Paint your nails with your favorite polish.
Remove excess varnish from the cuticle and skin of the hands with a narrow pencil tip.
After use, wipe the rod with a cotton pad dipped in nail polish remover.
Now, I am sure, to make up your nails with bright lacquer will not be difficult even for the biggest clunkier. If you are too lazy to glue special strips to make a French manicure, you can draw the tips of the nails on the eye, and then align it with this wonderful pencil.
Dear readers, Alimero, and you used a tool for correcting manicure in a pencil? If so, what brand and what are your impressions?