Last time I talked about my impressions of the organic shampoo from the company Love 2mix organic. Today I want to share my opinion on the hair mask of the same brand. I bought it in a pair with shampoo.
The mask, as well as shampoo, is completely organic. It has no SLS or parabens. As a part you will not find heavy metals, mineral oils, phthalate and other nastiness of the chemical industry.
Since recently, it has become incredibly popular to use all natural and organic. I have resisted this trend for a long time, but recently I have madly wanted to have beautiful, not colored, lively hair. What, if not organic care, will help my hair to become just like that?
Here, of course, he is on top. Solid utility and organic extracts from flowers, plus vegetable oils. Pearl proteins, according to the manufacturer's promises, saturate the hair with minerals, give mother-of-pearl shine and strength. Organic extract of acai berries, rich in vitamins, perfectly cares for hair, nourishing and moisturizing them.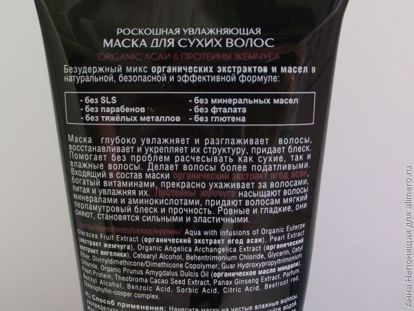 Impressions of use
Called deeply moisturize and smooth hair, the mask does not do anything. Hair combed medium, no extraordinary shine I have not noticed. But in the tube there is only one application left, that is, the cumulative effect also does not work.
The smell of her is not the same for me personally, like shampoo. Perhaps this mysterious acai berry gives such an unpleasant aroma. Since for me the aroma is of great importance, I will not buy this remedy anymore.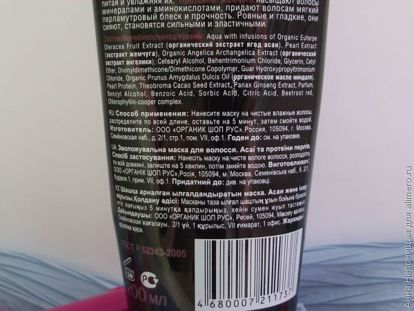 But, unfortunately, the reasons for not returning to this product again, more than one.
– unpleasant smell
– liquid texture
– no power to dry hair ends
– no shine
– hair does not become smoother and more elastic
– the hair is contaminated on the second day, that is, you need to wash your head every day
– not economical product (this tube was enough for me for three weeks)
Summing up, I will say that the tool can be both organic and terribly useful, but it has accumulated so many drawbacks that I have no desire to buy it again. By the way, it is not cheap: about 45 UAH. or 180 rubles. for a tube of 200 ml.