Tincture of red pepper stimulates hair growth. Many balding men use this tool to improve appearance. But women do not shun.
Every fashionista wants to have chic hair. And tincture of red pepper may well contribute to this.
About pharmacy tincture on Alimero was written more than once. Yes, and mustard with onions are not spared. All these folk remedies increase blood flow to the head and thereby stimulate hair growth and help strengthen the hair follicles.
Mask with red pepper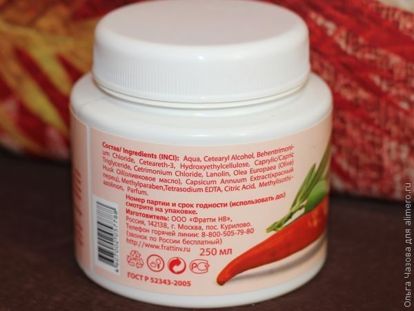 About 3 months ago I found a mask with an extract of red pepper on the shelves of one of the perfume shops. I was interested in the mask, because I heard more than once about the effect of pepper on the scalp. Having purchased this remedy from the Russian Field company, I went home to conduct experiments.
I did not postpone the test indefinitely. And on the very first day of the purchase of the balsam mask, I washed my hair with shampoo and applied a wonderful tool to my hair.
According to the instructions, the mask should be kept on the hair for 3-5 minutes and then washed off.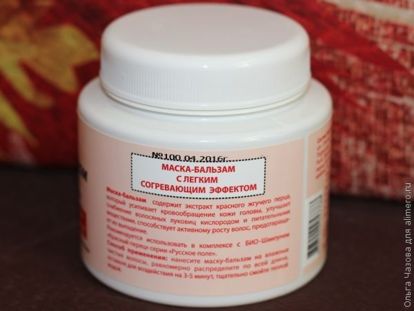 I, frankly, very much feared that it will burn much. Still, red pepper, and on the jar it is written that the mask has a warming effect.
The first 2 minutes, I did not feel anything. Then it began to gradually appear warm. The heat was pleasant – warming.
It took 5 minutes, and I began to wash off the mask. Upon contact of my head with water, my head began to burn stronger. But it was tolerable.
For my own comfort, I washed my head again with shampoo and rinsed with conditioner. But the heat did not go away, but it became only slightly weaker.
Wrapping my head in a towel, I enjoyed the warmth of my purchase for another 15-20 minutes.
As a result

The mask on the scalp acted quite delicately. Peeling and dandruff did not occur, and no redness left. That is why I still use it.
I apply it once a week, sometimes more often. And I wash my head in about a day.
The results of using the mask make me happy. Hair became noticeably longer and thicker. Honestly, I have never had such long hair as now. If only in deep childhood.
Therefore, I am pleased with the mask, despite its cool warmth!