Colored eyelashes, in my opinion, are the main component of a successful make-up. Why are there makeup, when you are in a hurry and the time for fees is limited – the eyelashes are colored and the beauty is already!
Good for girls who have long and thick eyelashes. Any quality mascara that does not crumble and does not stick together is suitable for them. But owners of short or rare eyelashes will have to approach the choice more thoroughly, as they need additional volume or length.
Cosmetic product – black mascara Pulse Perfection by Maybelline. Its main difference from competitors is the presence of a vibrating brush, due to which eyelashes bend even more and increase in volume.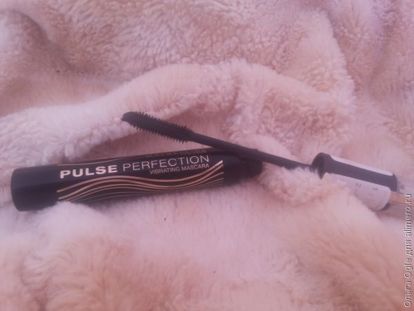 Vibration occurs due to the battery-tablets, which is inserted into the brush cap. The battery is replaceable. The brush itself is the same as used in their popular Define-A-Lash carcass. In a tube of 6.5 ml of the product.
I bought this mascara in an English online store, which is known to the whole world for its discounts. I don't remember the exact price, but it was very symbolic. Given that I can be 100% confident in the quality of the product, it is very nice.
Mascara is well applied to the eyelashes. Captures them at the roots and paints to the tips. A slight bend is really present. Also, in addition to the volume of eyelashes lengthened. The tool does not stick them. Mascara keeps really long and does not crumble. Easy to wash off.
It dries quickly enough on the eyelashes. If you apply mascara with a double layer, then it is definitely worth considering. In a tube ink dries too quickly. Literally two months and it is almost dry. Vibration in my opinion is superfluous. The results with and without her are no different.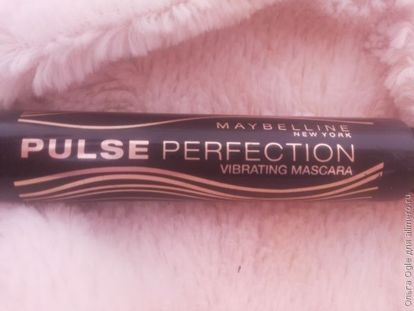 I am very pleased with this mascara, and believe me, I have something to compare with. Nature, unfortunately, did not reward me with elegant eyelashes, and in pursuit of the perfect mascara, I tried many things. Pulse perfection is one of the best. Very many carcasses of those that I have tried, showered and flow, this one does not.
When applying it you need to hurry, as it dries quickly enough. Although, here, too, it is worth noting that there are carcasses that dry much faster. To use the vibration, you need to press and hold the button on the cover. She is on the side.
Previously, I rarely used the ink from Meibelin, I do not even know why. Perhaps their price was suspicious, as I preferred more expensive products. This tool pleasantly surprised me, to be honest, I did not expect such an effect.
In general, I would rate this mascara on a solid four. Although I really liked her, but there is no limit to perfection. If I also decide to buy one, I will take it without vibration, since I don't see the difference between using it and not using it. This extra gadget, which is designed to cling customers.