I love Nouba cosmetics. They can always find interesting makeup solutions at an affordable price. Today I will tell about the new product – MascarONE mascara Volumetric luxury.
From the manufacturer
Manufacturer (Italy) promises a triple volume of eyelashes. Mascara not only makes the eyelashes thick and long, but also cares for them. Special keratin microspheres nourish the eyelashes and enhance their natural growth. A large brush gives the eyelashes lengthening, softness and plasticity, which remain even after the removal of mascara.
Packaging
The mascara is in a simple black plastic case, the volume is 13.5 ml. The volume is very large compared to standard carcasses (8-9 ml), so enough for a long time. A black cardboard box is also attached to the carcass, on which the composition and action is indicated, is even in Russian, which is undoubtedly a big plus.
Brush and application
The brush is very large, classic shape, made of lint. Carcasses are gaining a lot, one dunking is enough for both eyes when applied in one layer, for two layers you have to dip the brush again. Since the brush is very large, the mascara stains the eyelids when applied, but is relatively easy to remove from there.

Mascara intense black. When applying a little glues eyelashes, but when re-combing the gluing disappears. The volume gives a significant, even in a single layer eyelashes become much more noticeable and brighter. Eyelashes with this mascara become softer, they are not hard, but plastic.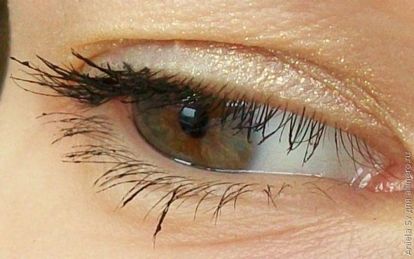 The mascara does not irritate the eyes, but is very strongly imprinted on the lower eyelid within 2-3 hours after application. What to say about rain or light snow – they will not survive this mascara. This property makes it unacceptable to use it for me, and I think no one will be happy to walk down the street and see black circles from the carcass under their eyes.
Make up remover
Removed uneasy because of its rich color. If you use micellar water, there are circles under the eyes. Therefore, I wash it off with either biphasic makeup removers or Balsam for removing permanent makeup.
I did not like mascara. For its cost, one should have expected greater stamina, although it is good by the stated effect (volume increase). Cost – 566 rubles without discount.