All mascaras I buy voluminous to make my eyelashes look more noticeable. This time, I could not resist and bought a new product – L'oreal Volume Million Lashes Excess in the shade of Noir Extra Black. The face of the mascara is my beloved Eva Longoria.
From the manufacturer
The manufacturer promises a huge increase in volume due to the large number of bristles and the larger size of the brush itself. With the built-in limiter, the mascara will be easy to apply, separate the lashes and not create lumps.
Packaging
Mascara is in a beautiful shiny red with gold case, which is made of plastic. The design of the case immediately attracts attention. Volume – 9 ml, enough for a long time. The lid twists loosely, there is no click, so you need to make sure that the mascara does not dry out.
Brush and application
The brush is very large, plastic; there are many bristles; you can see short and long ones. It is convenient to hold in your hand, you will not be able to accidentally touch the eye either. Mascara brush dials in moderation, built-in limiter does not allow to type a lot. One dipping is enough for both eyes when applied in one layer.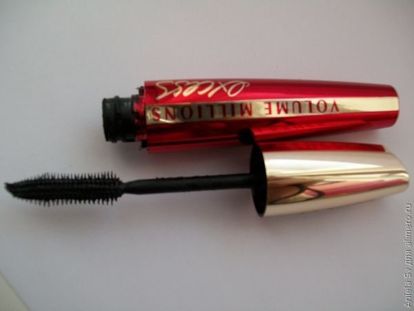 Mascara intense black. To make my eyelashes with her more noticeable, I put mascara in two or three layers. Eyelashes mascara does not stick together, does not leave lumps, gives a bend that lasts all day. I did not notice a special increase in volume, just the eyelashes become brighter and slightly longer.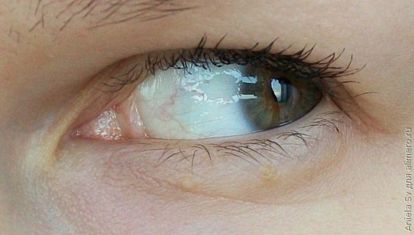 When applied very heavily stains the upper eyelid, but is easily removed with a cotton swab dipped in make-up liquid. Under light rain or snow is not smeared. The eyes are not annoying. But at the end of the day (at about 3 o'clock in the afternoon, provided that I am painted at 6 am), it crumbles!
I absolutely do not like it. I'm looking for mascaras that hold on all day without changes. Painted at 6 am and at 6 pm remains unchanged. Only the mascara Chanel corresponds to these parameters.
Make up remover
It can be easily removed with any makeup remover or micellar water. Black circles and divorces after does not leave.
I didn't really like the mascara. But perhaps it's just my peculiarities that she showered. I did not see the declared volume, so that the ink on the four with a minus. Price – 499 rubles without discounts.