It seems to me that no matter how different the preferences are in make-up, there will always be a mascara in a cosmetics bag of any girl. It helps in creating a light day makeup, it can not do without in the evening. Black mascara, almost like a little black dress, should be in the arsenal of any fashionable woman.
Only here to find the perfect weapon for shooting eyes – that still hassle. It's hard to say how many carcasses I have already tried in search of the ideal, but I didn't find it … However, I didn't despair and believe that I would find it sooner or later through trial and error))
On the advice of a makeup artist

Once I stumbled upon a video of makeup artist Elena Krygina. How to properly paint eyes, and decided to listen to the advice and try those carcasses that she recommended.
The first one for day makeup is Clinique High Impact Mascara, the second one for drama is Trish McEvoy. The first can be found in any network cosmetics store like Letual, Ile de Beaute, RivGosh, but the second one is sold only in England, and you will not find her with fire. Trish McEvoy's uniqueness is that this mascara is removed from warm water like stockings.
I found mascara with a similar effect in Clinique, called Lash Power Mascara, and it was hers that I purchased.
Clinique Lash Power Mascara

Productively writes that this mascara has increased durability. It does not spread and does not lubricate during the day due to special ingredients that are sensitive to heat. Therefore, this carcass is not afraid of rain, pool, tears, humidity, it can only be washed off with warm water of 39 ° C.
Therefore, Lash Power Mascara does not require special makeup remover, just wet the cotton swab with warm water, apply it to the eyes (the mascara will begin to dissolve), and then just wash.
In addition, the mascara is declared as extending and dividing the eyelashes, without lumps. There is also a note that the Lash Power Mascara has been checked by ophthalmologists.
My impressions

The first thing that caught my eye – compact packaging. It is thin and smaller than standard mascaras. The second is a tassel, it is very small, oval-shaped, the villi are quite rare, made of ordinary nap, not silicone.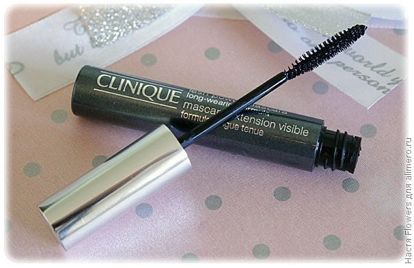 As for the resistance to moisture, the manufacturer did not deceive. Mascara withstands any tests, except warm water. It is washed off very interesting. If you wet the eyelashes, then the mascara is as if stripped off from the eyelashes. Judging by the reviews on the Internet, everyone likes this method of removing the carcass, but I did not really like it.
Yes, it is convenient that the usual warm water is enough, but my soaked pieces of carcass fall into my eyes, and then they have to be removed, which is not very pleasant. Maybe I'm such a Krivoruk, but I prefer ordinary carcasses, which are removed with butter or milk.
Zero effect

If we talk about how the effect gives the mascara, then for me it is … zero. Is that even eyelashes stick together. In general, this ink has not met my expectations.
It is especially insulting that its price is not so small – about a thousand rubles. I am glad that for her purchase I was given a gift from another sampler from Clinique as a gift – and now she pleased me more. But about her somehow another time, but for now I'm still looking for the perfect mascara.
Have you already found your ideal assistant for thick beautiful eyelashes?