I recently wrote that I decided to try a mascara not from a mass market, but more expensive. She chose Lash Power Mascara, but she disappointed me. But to her they gave me another sample – Clinique High Impact Mascara – and now I liked it a lot more.
About this mascara, I learned from the video of the now very popular makeup artist Elena Krygina. She recommended this mascara for every day, as a base. Among the advantages she called a comfortable tough brush, which does not bend, due to this you can conjure beautiful curled eyelashes. She also noted that in the tube a lot of money and enough for a long time.
Since I have a probe, the size of the tube is small, but the brush is exactly the same as in the regular version (only the base itself is naturally shorter).
Manufacturer promises

Mascara Clinique High Impact Mascara is designed to add volume to the eyelashes due to the polymer base. In addition, it lengthens and tightens the eyelashes. It is written that the elongation is 36%, and the curl is 26 degrees (it was always interesting how these measurements are made 🙂
Mascara is available in black and brown colors. The price is about a thousand rubles per tube 8 gr. It is the best-selling Clinique brand.
Public opinion

For the sake of interest, I looked at the reviews on the Internet for this mascara. As always, opinions are divided. Some are delighted and consider this mascara to be one of the best, while the others have disappointed Mastiara.
I think mascara is such a thing that unless you try it yourself, you will not understand if a particular company / brush / texture will suit you. It's a pity that you can't always get such mini-versions before you buy, in order to understand whether you will like the product or not.
My impressions

Compared to the Lash Power Mascara, this mini version is just great. I liked the brush a lot more than the Lash Power. It is of medium size, classic shape, without any frills.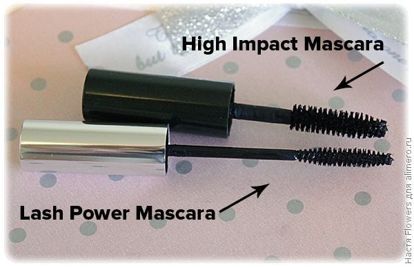 Ink has no smell, color is saturated, black. In one layer does not stick together eyelashes, not bad separates them, gives a small volume and twisting. A small minus – after a while the mascara began to crumble a bit, if you apply two layers.
High Impact Mascara gives the eyelashes a natural effect, without dramatic, so it is suitable for daytime makeup, evening, I'm afraid, will not pull.
The sampler was enough for me for a very long time, I think the full version will last a long time. Mascara is washed off easily, no super funds and body movements are required.
In general, the mascara is not bad, but the price still stops to buy the full version. I think a similar effect can be found in cheaper firms. So once again I'm looking for a new mascara, as soon as these are over.
And what is your favorite mascara?