I am not a great lover of exquisite makeup, but I always have mascara, eye pencil and lipstick in a neutral shade. I always try to select these things carefully and almost never buy cheap cosmetics, because I was often disappointed in them during my student days.
Once I urgently needed a new mascara. Favorite Jade at the most inopportune moment ended, and the financial situation left much to be desired. Without hesitation, I went to a cosmetic store in search of a new, inexpensive tool.
At the store counter I was attracted by a whole range of multi-colored packages: yellow, purple, pink. These were carcasses from the Polish company Eveline. Despite the popularity of this cosmetics, I did not use it even once, so I decided to take a chance.
First of all, I was attracted by the bright packaging design and the very affordable price of about 120 rubles (30 UAH). The ink is packaged in a bright pink bottle, which can not fail to attract attention. The volume of the bottle is 9 ml, as with most similar tools. Manufacturing country – Poland.
Then I decided to open the bottle with the tester, which was lying next to the storefront. I have never seen such a brush before. It resembles several balls of different diameters, interconnected from small to large.
Mascara has a pleasant, not too liquid, but not thick texture and a classic smell. And, judging by the shape of the brush, it should be good to paint the eyelashes closer to the inner corners of the eyes, because usually it is difficult for me.
Advantages and disadvantages
Coming home from the store, I immediately started testing a new purchase. Still, the mascara was a little watery, because of which the eyelashes immediately became wet and soiled the upper eyelid. It took several minutes for the mascara to dry on the eyelashes.
I can not say that she lay badly on her eyelashes: there were no lumps on them, moreover, thanks to the carcass, they became longer, twisted and fluffy. I was more or less satisfied with the result.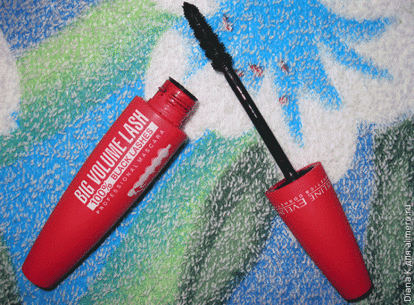 But I was glad early, because after an hour the mascara began to crumble, and it fell not with fine dust, but with incomprehensible pellets that looked like flakes.
After the purchase, I tried several times to use this mascara, and each time I was expecting the same result. Therefore, at the first opportunity I acquired another mascara, and I am going to throw this one away.
On the Internet reviews about this product are mixed. Of course, there are those to whom she approached, much more negative reviews. Therefore, I can not recommend to anyone Big Volume Lush mascara from Eveline.