In this article I would like to share my opinion on the account of the mineral shadows of the Mary Kay Company from the set you see in the photo.
It seems to me that you have already noticed that not only shadows are in the set, but I will tell you about them.
Characteristics from the manufacturer
As they say, the manufacturer will not say anything bad about himself))) therefore the qualities of these shadows are the best:
– silky structure
– easy drawing in one motion
– smooth coating
– stable formula
– natural minerals and vitamins A, C, E in the composition
– do not crumble, do not roll down
– rich palette of shades
– preservation of color intensity throughout the day
– passed tests for allergenic and irritable skin
– suitable for sensitive skin
– suitable for people wearing contact lenses
As for me, the packaging is very stylish and beautiful. Of course, the size is not small, but it is worth it. Inside, everything is located well and compactly. I really like. The cover is made of very dense plastic, therefore it reliably protects cosmetics. I take with me without problems.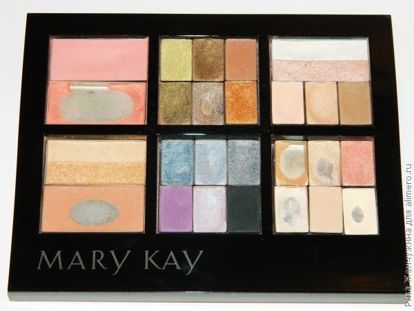 There are 21 shades of shadows, each weighing 1.4 grams. Separately at the time when I took, they cost about 200 rubles for 1 color. How much this whole palette cost me, even kill me, I don't remember! But, of course, cheaper than separately.
I must say, the packaging in any case is great! Because when the shadows end, you can easily buy new ones and insert them here. Applicators are not included. As for me, it's for the best: you can buy any. And the empty place will not sparkle.
About the variety of colors manufacturer does not lie. It seems to me, even on my palette it can be seen. And the more noticeable in the photos, which ones I use more and which less.
I must say, the texture of the shadows and the truth is silky and pleasant in sensations. With the applicator, they are recruited without problems. On the bill of one movement about which the manufacturer spoke, I would argue. Personally, I do not put these shadows. There was no allergy or irritation.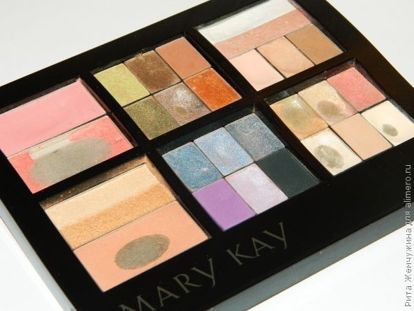 The stability of these shadows, of course, makes me very happy! To be honest, with the base I put them much less often than without it. Basically, when doing a make-up, i.e. in the light, on some large-scale event. But without a base, they also lie well, do not roll down, do not crumble, hold on all day. Only the intensity of the color decreases with time, but I don't criticize them for that)))
I am pleased with these shadows! I tested them before buying this kit. Therefore, it was already decided on him with confidence. So far I have never regretted it))) They are good, what else to say, good.