Lip gloss occupies a decent place in my makeup bag. I have already told you about this in my article entitled Probably, this is my paradise. Today I write about the brilliance. This is a review.
I must say that to allocate some shades separately, it makes no sense. By quality, they are all about the same. I think it should be so, the series is the same. And my individual preferences in the range of shades are unlikely to be of interest to the general public. In short, get down to business!
First, I will write about how the manufacturer Mary Kay characterizes shine:
– long persists on lips
– moisturizes lips
– gives lips volume
– gives a transparent and pearly luster
– conditions, softens and protects the skin of the lips
– contains natural extracts, minerals and vitamins
– fits in a palette case for decorative cosmetics (it is, only dignity, as for me, doubtful, because not everyone has such a stand)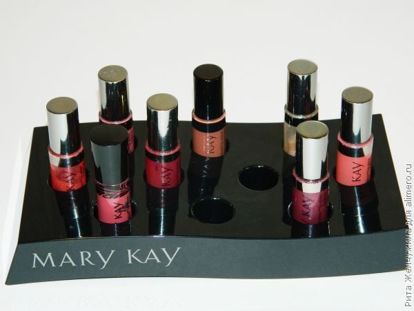 – it is possible to use independently, it is possible over lipstick or a pencil
– not flavored
– has been tested for allergenicity and irritability
– Dermatologically tested
Appearance
To be honest, I really like the case with these shines. Because of them, one can buy these products))) Looks stylish and compact. In the hand, the weight is almost not felt. Volume 7.75 ml.
I must say, the inscriptions look presentable even after long use, but the metallized part is scratched and scuffed, but not so much to cry about it))) At the bottom of each shine there is a sticker with the name of the shade, of course, in English.
The vial closes tightly, there can be no glitter leakage if you screw the cap all the way. In the beautician does not take up much space. In short, one sheer pleasure)))
Texture, smells, shades
The texture is soft, pleasant. It may have seemed to me, but each shine initially has a thinner consistency, and then thickens, as it were. Of course, a lot depends on the applicator. I have no complaints about him at all, he is excellent.
To be honest, I do not know, as indicated, that the gloss is not aromatic. Personally, I smell the smell, and not barely perceptible, but rather strong and persistent. He's sweet, I like it.
Among the shades there is something to choose. As for me, they are different and beautiful. That is why I have so many of them))) Though I do not forget about the preferences of my regular clients.
My personal opinion on the use
Gloss is applied evenly, does not roll and does not spread. With a pencil, I rarely use it. Sometimes with lipstick. More often by itself. It gives the lips volume and moisture at the time while on the lips.
Only I have two troubles with him. First: the gloss is quite unstable. He still holds on more or less, if he doesn't eat anything, do not drink, and don't kiss his husband))) And after at least one of the above, even if brief, the shine disappears. The second trouble: after his disappearance, my lip skin starts to dry. Otherwise, it suits me.
To be honest, I found for myself so far only such a way out. I always carry it with me and regularly update it. I don't remember the prices now, I ordered them not yesterday and immediately there are a lot of them, complete with other cosmetics. It seems like about 400 rubles. It seems to me, it would be possible to make its price cheaper. But overall he's good!