Mary Kay smoke shimmer eye wand shimmering eye shadow in shades of Amethyst Smoke (Violet Smoke) and Blue Knight (Sky Knight) were my first products from this brand. Before that, I did not use the products of this manufacturer (USA). My impressions can be read further.
From the manufacturer
In a series of 5 shades. The manufacturer promises saturation of shades that can be mixed with each other and create new ones. With these shadows make-up turns out to be original and super durable. Ideal for smokey eyes.
Packaging
Shadows are in simple plastic packaging in the form of a pencil. The cover of the case snaps tightly, which prevents them from drying out. Weight – 1.38 g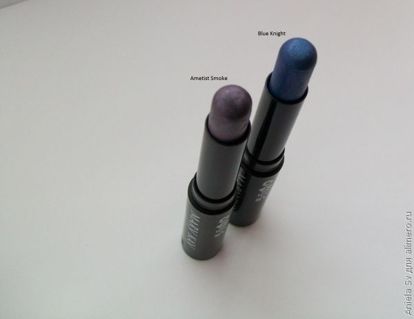 Shades and application
Shadows I put straight from the stick. Shadows must be applied very quickly, they immediately seize the skin of the eyelids and it is no longer possible to shade or correct them, just wash and apply again. Because of this, shadows have tremendous stamina – they last all day. Eyes are not annoying.
When applied, the stick slightly cools the eyelid skin. I think in the summer, it will be especially nice. Shadows do not roll, do not become clogged, but, unfortunately, do not overlap. When you try to make the color more intense, they fall into lumps. Therefore, they can be applied only in one layer.
Hue Amethyst Smoke (Violet Smoke) – light purple color with a small amount of silver shimmer. Very beautiful twinkle in the evening light.
The shade of Blue Knight (Sky Knight) is a rich blue color also with a small amount of silver chimmer. Very beautiful noble blue color. I never thought that I would like this color and I will use it in makeup.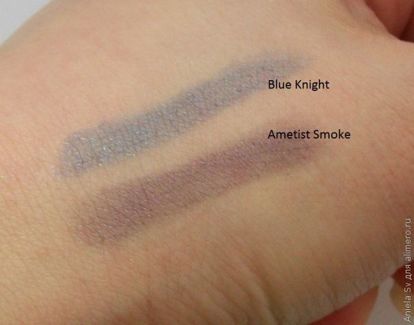 Make up remover
Shadows are removed very easily, despite their impeccable stamina. Removed in one motion with a cotton pad with micellar water or liquid to remove makeup from the eyelids.
The first acquaintance with the network brand left a pleasant impression. I loved the blue color in the makeup of the eyes, and it is worth a lot. I recommend everyone to try these shadows. Cost – 600 rubles on the official site.