Hello beauties!
Recently, I shared with you the impression of Mary Kay lip gloss, and today I want to talk about lipstick of the same company.
Of course, of course, we are all different: sensations, skin type, habits … It is for this reason, before I got this lipstick, I read a lot of reviews and how should I use the tester, which my friend gave me.


Packaging
Case concise small size, black. Made of high quality plastic.
At the end of the cap is applied the same shade that lipstick has. The cap closes tightly on the slits and does not hang anywhere.
On the cap, and inside, when you take it off is the inscription Mary Kay.
The smell is a little sweet, something like vanilla, but not intrusive and almost not noticeable in the process of socks.
Lipstick has a creamy texture of medium density.
In the catalog it is declared as nutritious, which I have no doubt for a minute. It nourishes and moisturizes my lips well enough.
Lipstick on lips goes flawlessly, and regardless of balm or dry lips.
Disadvantages does not emphasize. Wrinkles and folds of the lips do not spread, and even vice versa smooths small folds.
The contour of the lips does not run away, even without using a pencil, it looks quite neat.
The coating is very smooth, smooth and gives a beautiful medium density glossy finish.
Adds lip a little volume.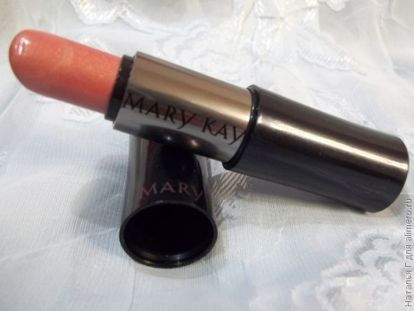 Persistence
The stability of the lipstick is excellent, it can withstand a cup of coffee with a sandwich with ease. And after a snack, I don't apply it on my lips. It looks good enough. In a white strip after a small meal does not roll.
Removed with micellar water or makeup remover perfectly. In this case, the pigment in the lips does not eats.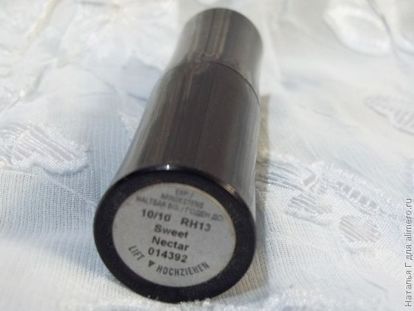 On the lips, lipstick is comfortable. Stickiness is not felt and, importantly, has no unpleasant taste.
Lipstick Mary Kay pleased me enough, she combined in herself, elegant quality, excellent shade and reasonable price. Its full cost in the catalog is 160 hryvnia or about $ 14, and if you wait for the discount, you can buy it cheaper.
Thank you all for your attention!