I do not know about you, but it is extremely important for me that cosmetics not only take good care of my skin, but also smell good. After all, this is practically the first thing with which we adjoin in the morning, and that which completes our day.
Pleasant aromas of cosmetics set us up in a positive way, soothe in the evening and give bright dreams.
That is why I just could not get past the Markell cosmetics washing machine. Well, how can you resist the aroma of cappuccino? And mint and watermelon? Of course not.
Coffee and milk

Although the series is called coffee and milk, in fact it smells like freshly brewed cappuccino. The smell is thin and unobtrusive, a great start to the day!
Scrub is very gentle. Despite the fact that the particles are a bit large, it does not injure the skin. Wash off easily. Does it perform its main function – deep cleansing of the skin? Unfortunately no. If you need to get rid of black dots, you will have to look for another tool. But as a regular secondary cleansing, it will fit perfectly.
Of course, the composition is not so hot, but what else to expect for 130 rubles?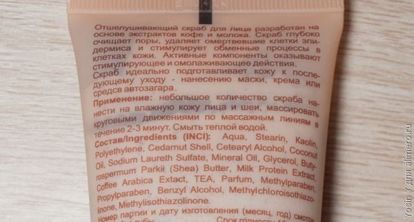 Ultralifting Face Mask

This is the second part of the complex with the smell of coffee. The mask is easily distributed over the skin, is well absorbed. The composition, again, is not so hot, but the effect is. Honestly! Noticed on the second chin. The sensations of using only positive.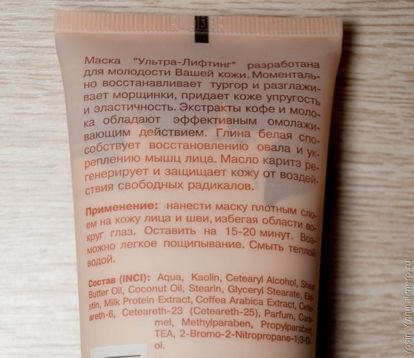 Mint and watermelon

To walk past such an unusual combination would be inhuman. So with great pleasure I acquired a second scrub from Markell cosmetics. And not lost!
Less greasy, with a vigorous, bright aroma, pink scrub will relieve from anxieties and doubts, will give strength at the beginning of the day and will adjust to the summer mood! It's great that the aroma lasts on the skin a little longer than coffee with milk. It is pleasant to smell such summer composition.
But do not be afraid! Watermelon and mint will not fight for primacy with your perfume. As you dress and put on make-up, the smell will already shatter.
In general, I recommend to anyone who is not afraid of synthetic ingredients in cosmetics.