Today I will tell you about a manicure, which absolutely everyone can do – it is so simple.
We will need two lacquers in harmony with each other, but in contrasting colors, a transparent top, and a plastic bag.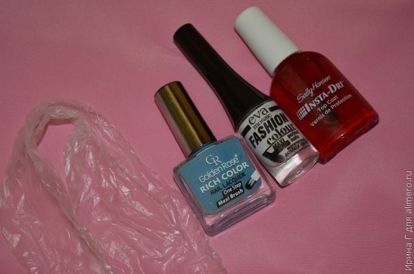 I chose a white varnish and a very controversial blue-green dusty hue, which when mixed with white varnish turns into a soft blue. Both are identical in texture, fluid and speed of drying. It would be possible to try to take a white pearl lacquer, but unfortunately I don't have one.
Grind-polish standard nails, remove cuticle, cover with base. Then apply the first coat of lacquer, let it dry. The layer should be pretty thin. Apply a second layer of lacquer – here you can not trivial, smear thickly. We are waiting for literally 5 minutes so that the lacquer coating starts to harden.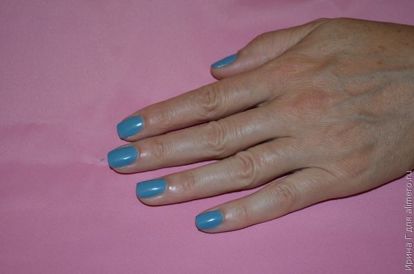 Then we deal with each nail separately. Cover it with a second lacquer. The layer should not be too thick, but not too thin.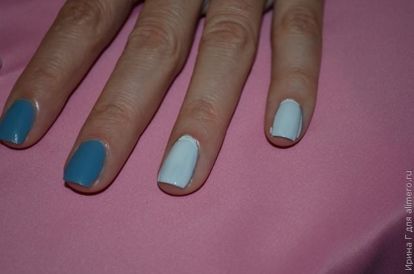 We wait a few seconds and lightly press the crumpled lump of plastic bag to the nail.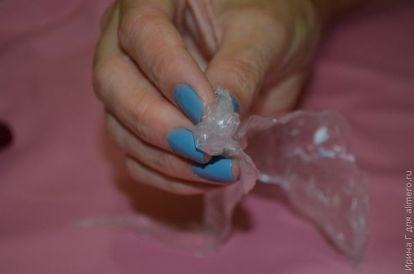 Immediately the entire nail process will not work, because in this case, the pressure will be strong and the substrate will be exposed too much. Therefore, we gradually pass through polyethylene over all the nails, trying to make the divorces even.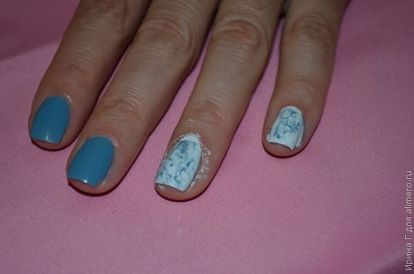 After that, proceed to the next nail and so on. Then we cover everything with two layers of topcoat (without a top, the varnish may be slightly uneven).
This manicure can be done thanks to the dissolving property of lacquers. White lacquer dissolves under a thick layer of lacquer-substrate, which has just begun to dry. Therefore, when you press the polyethylene to the nail, then the top coat of lacquer as it is mixed with the dissolved lacquer substrate. Thanks to it such beautiful divorces turn out.
If you perederzhat white lacquer on the nail and begin to work with polyethylene later, the white varnish will not mix with the bottom layer, and stick to the film. Therefore, to process not all the nails at once, but in turn.
Of course, the stains are more dense and blurred compared with this marble. But they are still quite similar. Recently, my sister brought a piece of marble from Karelia, where she went hiking with her family. Looking at your nails, an association with this stone comes to mind immediately.