Summer is coming to an end, the days are getting shorter, the nights are colder. Therefore, I try to save this summer as long as possible and today I will show you one more example of a bright and rich manicure.
Varnish bright color substrate (I will have white)
Oily cream or ointment
Straw
Several varnishes of the combined shades and dense cream texture (I have lilac, orange and yellow)
Top Drying
Brush to correct blemishes
Zhdsl
We cover the nails with white lacquer in one layer. You can forgive him some unevenness, all the same, then everything will be covered with a spray of paint.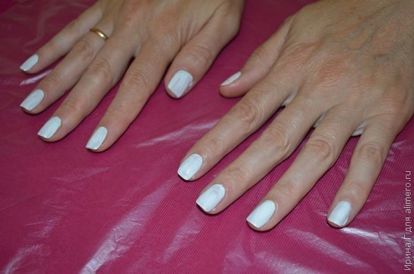 Since I had foreseen a big stage in washing the splashes from the skin around the nail, I thought beforehand about simplifying the task. I didn't want to mess around with scotch, so I remembered another way – we cover the skin around the nails with oily ointment.
The varnish does not stick to the skin and is erased directly with a cream, without smearing the cuticle and side rollers. But I went further – just smeared all the free space with hygienic. It was not.
We take the tube, lightly dunk it right in the neck of the bottle with varnish, quickly pull it out and immediately blow strongly. If the blow is not sharp, then the drops may turn out too large and the manicure will not dry out. In addition, you need to monitor whether too much varnish fell into the tube. And it can not get a spray, and blots. You can cover two nails at once.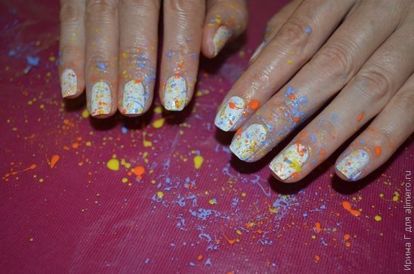 We do the same with other colors. The yellow tint let me down – it turned out to be too transparent for such decoration and got a little lost on the nails. Be sure to take lacquers of bright colors and dense textures without nacre and sparkles.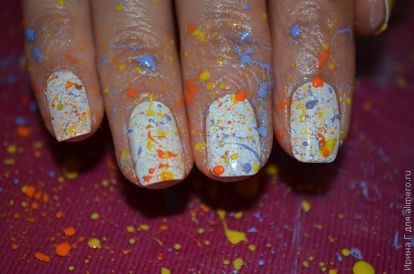 Now begins the most painstaking and tedious stage – scrubbing what was misplaced. With hygienic lipstick, everything is erased much easier than without it, but sometimes the splashes fell directly on the back of the hand, so I still had to mess with WDNS.
With a brush I adjusted the line near the cuticle, covered everything with a transparent top and voila! Pictures of Pollock in miniature are ready!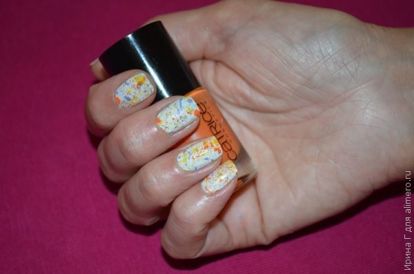 The manicure itself is done very quickly – literally 10 minutes and all the nails are already covered with a scattering of droplets. But it takes about the same time to remove splashes from the skin, and if I didn't use a hygienic, it would take half an hour.
In general, the manicure is very positive and easy. I also wanted to try black nails with neon splashes, but I do not have either black or neon varnishes, and it will be too bright and defiant too. For now we confine ourselves to the standard set of Letnik lacquers