Chameleon manicure varnishes, or rather duochromes, with many colors overflowing from one to another, last autumn and winter were released by many brands.
And their progenitor varnish Peridot, the brand Chanel released in 2011. I saw his copy in the fall on a stand with varnishes Catrice.
The hand itself reached for the bottle. But the previous customers, apparently, opened it and did not twist the cap, so I knocked it over myself. Green hands, green shoes, good clothes did not slap, and the bottle on the floor smashed.
The first approach, so to speak, failed. But recently I saw this lacquer at a sale of 65 rubles, and so it cost up to 150. Of course, grabbed!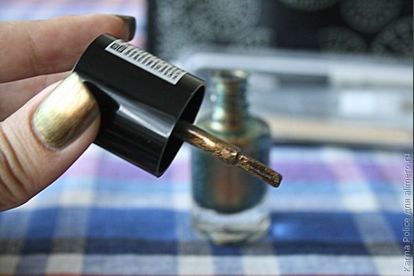 Colour
Genius In The Bottle is very beautiful. Depending on the incidence of light, the varnish is poured from chrysolite green into bright sparkling bronze. By the way, the overflow in blue or aqua color is very noticeable in the bottle, but it is not on the nails.
In the sun, it sparkles with gold sparkles, a very bright metallic luster – do not take your eyes off! In artificial light on the nails warm bronze. And in the shadows and in the diffused light, the genius in a bottle appears in all its extraordinary beauty – it plays in all colors.
Genius In The Bottle should be able to wear, it is not a banal and universal color. It should be supported with similar colors in clothes or accessories. Well, because of the brightness, he does not need a neighborhood of jewelery or jewelry in his arms.
It just seems to me that this is not my little bit. My skin has an olive undertone and this varnish is greener. Although, in the fall, it may look different.
On the bottle written professional flat brush. Yes, flat and wide, neatly trimmed, very comfortable. I paint her nails in three touches without flaws and adjustments.


Application and drying
Varnish is metallic, must be applied in one motion, otherwise there will be stripes. Pretty liquid. The first layer falls translucent, but without the imprints and bubbles. It dries quickly.
The second layer gives a dense coating, but if the nails are long, it is probably better to apply another layer so that the free edge of the nail does not show through. Dries not quickly, if you make a dent – no longer correct, it will be very noticeable. Its gloss is good.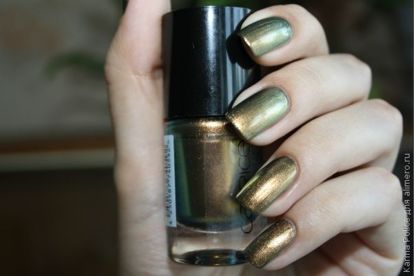 Persistence and Removal


Without a base and top, it lasts 4 days, if you fix it with a top – you can go with it for a week. It is removed from the nail very easily, the nail and the fingers in the green does not stain.