The image of a stylish and modern woman is inextricably linked with beautiful and well-groomed nails. After studying the basic rules and small nuances, you can make a wonderful manicure at home.
I want to share my experience of performing manicure at home. I think that for many it will be relevant, since it is not always possible to visit a beauty salon. And you want to look well-groomed and beautiful always and everywhere.
Make a manicure at home is not difficult. To do this, you will need a certain skill, since at first it is quite problematic to work with your left hand, and a small set of necessary attributes:
– nail polish remover
– means for softening and removal of cuticle
– bath with warm water
– nail files
– hand and nail cream
How to make a manicure?
The whole process of manicure consists of several mandatory steps.
1. Remove the old varnish
With the help of cotton wool and a special liquid, it is necessary to remove the remains of the old varnish from the nails. Nail polish remover must not contain acetone. It dries and spoils the nails.
I take off an old varnish the day before I'm going to do a manicure. It is useful for nails to breathe and sometimes stay in its natural form.
2. Shape your nails
Make the nails better with nail files. Do not use metal files, they can lead to delamination of nails. It is better to use nail files with diamond, sapphire or boxwood coating.
When choosing a nail file, you need to pay attention to its grain. I, as the owner of very thin and brittle nails, fine-grained nail files are suitable.
3. Steam the nails
To soften the skin, you must place one hand in the bath with warm water for 3-5 minutes. After wipe off with a towel. Do not put two hands in the bath at once.
I always add a few sea salt pellets or chamomile decoction to the water in order not only to soften the skin, but also to strengthen the nail plate.
4. Removal of cuticle
Apply and rub the cuticle remover on the skin around the nail. Carefully wooden stick to push the skin to the base.
There is a huge range of cuticle removers. They allow you to make a manicure a painless and safe procedure. Personally, I prefer cuticle oil.
5. Remove burrs.
To remove burrs, it is better to use special tweezers. They differ from nail clippers in small size and beveled edges.
During deburring, tweezers should be perpendicular to the skin and not parallel, like a nail file.
6. Application of nourishing cream
It is necessary to apply a nourishing cream on nails and hands. Cream is better to apply with massaging movements, it improves blood circulation.
7. Applying varnish
Nail coloring should start from the cuticle in the middle of the nail bed. After paint the sides of the nail.
Before applying decorative varnish, I always use a special strengthening varnish with calcium or fruit acids.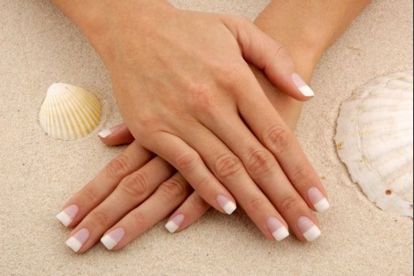 What should be avoided?
The length of the nails on both hands should be the same. Otherwise, the hands will look untidy.
For home manicure is better not to use traditional manicure tweezers. Gently remove the cuticle is quite difficult. There is also a great chance to injure yourself or cause an infection during this procedure.
Nail polish should not be dried with a hair dryer or some other unnatural way. The coating may swell and separate from the nail.