In my eyelids, almost all extruded shadows roll and do not last longer than 2-3 hours. To extend the persistence of the shadows and makeup, I acquired a special base for the shadows.
The manufacturer (Finland) promises alignment of the eyelid skin, even application of shadows. Makeup stays in perfect condition all day. Arctic lingonberry seed oil is an antioxidant that moisturizes and brightens the skin. Suitable for all skin types. Without parabens and fragrances.
The primer is located in a small plastic tube with a convenient spout dispenser. Volume – 7 ml. A small minus tube – it is opaque, so to understand when the base runs out is very difficult.
I use the base when I take pressed shadows. The primer is a silicone to the touch texture, which is easily applied to the skin of the eyelids. The base is light beige, slightly whitens and smoothes the skin. There is no flavor. Immediately after application, you can proceed to make-up.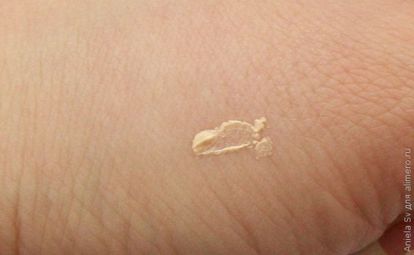 Shadows fall on it more evenly, easily shaded, the color appears brighter, but most importantly, they hold up all day as nailed, do not clog up in folds, do not crumble. Pencils applied to the primer, also become brighter, not smeared and not imprinted on the upper eyelid.
Ingredients: silicones, jojoba oil, arctic lingonberry seed oil, vitamin E, sorbic and ascorbic acid.
Despite the high resistance of the shadows with the base, make-up remover is easy. Eye shadows can be removed with a cotton swab with any makeup remover.
If you, like me, suffer from the instability of the shadows, the primer / base for the shadows will come to your aid. With her, your makeup will become more perfect and more resistant. And its efficiency, combined with a low price, will allow you to use it for a long time and with pleasure. Price – 200 rubles.
Do you use primers for shadows?