When I saw in the cosmetics shop big boxes with multi-colored attracting bottles of varnishes, each of which was attached a price tag at a discount, I immediately wanted to buy all the bright colors that were there.
But, remembering how I used to buy several varnishes, sincerely hoping to use them regularly, I eventually painted my nails on the strength of 1-2 times and safely forgot about them. And somewhere in a year I found it completely dry and not suitable for use.
All these varnishes, which I almost did not use, but with which I spent my money, found themselves in a trash can. And this has happened to me since adolescence.
In general, I am too lazy to regularly paint my nails, and even in different colors. And I constantly have no time for it – other things are more important.
And almost all the varnishes that attracted me to themselves with their unusual color or brightness, later did not fit either to my clothes, or to the color of cosmetics, or to my exterior color type. And now I have a small child, and I paint my nails half the time I have a transparent strengthening foundation.
But the most classic colors for me that I always painted my nails and that looked beautiful on my hands were white and pink mother of pearl. These are my favorite colors of lacquer.
But now, remembering all of the above in the store, where I caught the spirit of everything bright and seductive, I held my breath and counted to myself up to 10. I remembered all the clothes I wear at the moment and plan to wear, remembered the shades of my cosmetics and chose myself Only 2 varnishes – light pink matte and burgundy matte.
Brand one, and the quality is different
What struck me so much is how varied in quality the varnishes turned out to be.
I'll start with pink. This varnish completely disappointed me – very liquid, when applied in a single layer, it looked translucent, although the bottle with varnish itself looks as if it is a rich pink. Further, the varnish lay down uneven layers – somewhere empty, but somewhere thick, even when applied in two layers. And the most recent disappointment – varnish on the same day began to be scraped off.
Yes, and even when you just apply it, it looks awful on your hands, with the effect of shabbyness, as I call it. In general, the horror, not varnish. It is a little better when you put it on a transparent base – it lays down more evenly, but all the other flaws still remain.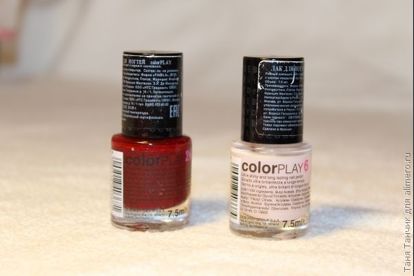 Burgundy varnish– quite another thing. Stamps one, release time one, and completely different from pink. It lays down evenly, rather thick, opaque, when drying it stays on nails for a long time, is peeled off only under strong mechanical effects, and without them lasts up to a week. I really like the color – rich, bright, it fits to my wardrobe (I generally like burgundy things).
The cost of varnish – 85 rubles for each, taking into account discounts.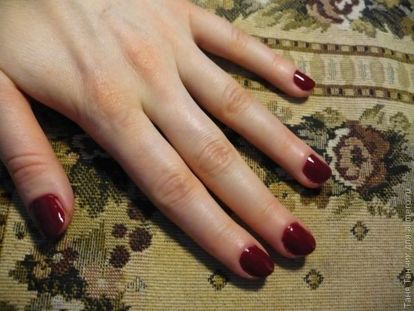 The label reads: Smooth, radiant color from the first application. Resistant to chipping. Unfortunately, this applies only to the burgundy shade.