Previously, I only washed my face with soap and thought that it was completely normal, but after visiting a cosmetologist, I realized that I was mistaken. The skin requires not only cleansing (wash cosmetics with a soap or a special makeup remover), but also toning. Tonics and lotions allow you to restore the pH of the skin. In addition, lotion should be used after each skin contact with water, and not just in the morning and evening. That is why I began to use lotions. My favorite was the Beautiful Lotion from the French company Algologie
I use this lotion every time before putting a mask on my face. It not only restores the pH of the skin of the face, but also softens and soothes my sensitive skin. Soothing Lotion Lotion, which contains the following active ingredients: sea water and calcium hydroxide, is very easy to use: it should be applied to the face with a cotton pad.
Often, after depilation, I get irritated (despite the fact that I have been doing depilation for a long time), creams and oils do not help me, then I accidentally read that compresses can be done with lotion. And really – I noticed that the irritation passes faster.
I do not like sunbathing, as I have very fair skin and often I burn, but for those who like to soak up the sun, I also recommend making compresses with this lotion to the place of the burn. Lotion with a pleasant pale lemon color can also be used for dry skin.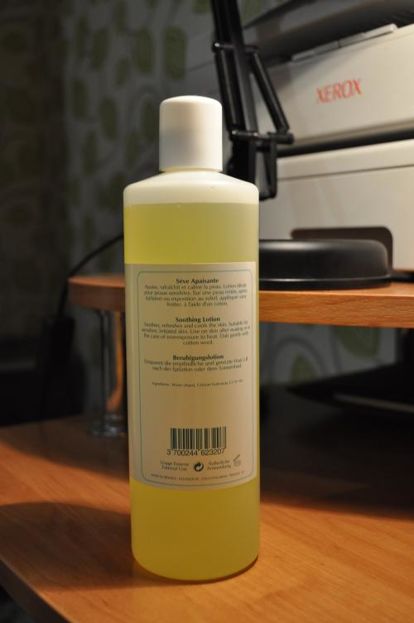 At first I bought a small bottle (250 ml), but since this tool is universal, it disperses quickly (it is also used by the husband). Now I buy big professional bottles of 500 ml.
disadvantages
I think the most important is the high cost – a 250 ml pump costs about 1,000 rubles. (but the lotion is worth this money), and also the fact that the lotion is not sold in stores or shopping centers, can be purchased only from online stores or from company representatives in your city.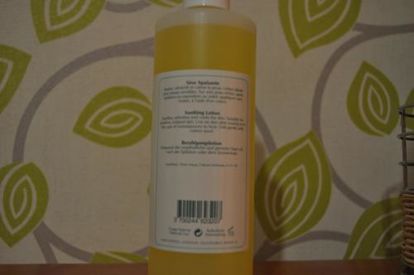 Information from the manufacturer: softens the skin, has a cooling effect, perfectly relieves irritation on the skin after epilation, the adverse effects of sunlight, cold, wind, after shaving (for men). It is an excellent SOS remedy for sensitive and irritated skin.