Having promised with this mascara a million eyelashes, in my opinion, Loreal monstrously lied! Drama or natural lashes – these are effects on the amateur. But few people love it when the mascara crumbles under the eyes, right?
Advertising with false eyelashes
I don't bite on TV commercials, but for that matter, I rarely switch it on at all. The mascara Loreal Volum Millions de Cils was praised by a consultant in Rive Gauche.
The name is fabulous – the volume of a million eyelashes. New big brush that will paint every eyelash. Super-new limiter will remove excess mascara from the brush, so there will not be a single lump.
And the advertising poster shows me – on it Eva Longoria with false eyelashes up to the eyebrows. Known deception of buyers. But who will tell you the truth: the mascara is not so hot, but we filled it in a new package, buy it, huh?
Yes, ordinary. Not very long, not rare, black. Grow exactly without bushes and shaggy.
A tube of a mascara cute, do not take this away. Gold plastic, pleasantly lies in a hand, the cap with a brush is screwed up to click. And the super-limiter turned out to be the most common, as in any other tube. Is that in it something else like incisions for bristles.
Very large, silicone, spiny, with frequent long setae. The idea is to properly capture each eyelash, paint and share.
For a long time I could not adapt to it, I would pick up the sharp bristles in my eye, I would mascara all over the eyelids. My eyelashes are not straight and not hard, but it was impossible to attach them with this brush.
At first the mascara was very thin, uniform and lump free. But her eyelashes were not visible. After a week or two thickened. And they appeared – lumps. And not on the brush, and on the eyelashes thickened when painting. Tried to comb – mascara on eyelashes became even more loose.
Not really. It smells like some kind of chemistry and castor oil.
Washed off with water. Therefore, if emotions or wind squeeze a tear out of you, there will be a black stream.
Crushed under the eyes, eyelids begin to itch. For me, this is the biggest drawback.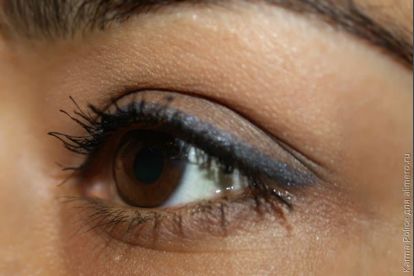 Effect
Eyelashes will not be lush, mascara sticks them together. Takes three cilia like this and sticks them together into one. And if you even put a layer, then glue the tips of these beams.
And Loreal Volum Millions de Cils lengthens the cilia due to a lump that clings to the edge of the cilia. Eyelashes with her like dubeyut, become hard, gnarly. I always feel like mascara on them.
However, these effects on the fan, but I do not like it. Especially for 500 rubles.