When I was going to rest in the southern regions, I really wanted to buy lipstick of coral or peach color. Since on the tanned skin, this lipstick color looks amazing. At least I like the way she looks on my lips.
Therefore, without thinking twice, I went to the store and bought a Yves Saint Laurent Rouge Volupte lipstick, about which my story will be devoted today.
Packaging
Making lipstick is a work of art!
Gold-colored metal case with the YSL logo and a small mirror on the lid.
The tube is quite weighty.
Volume – 4.5 gr.
The smell is also awesome! Very gentle, unobtrusive and not sharp. It reminds me of sweet exotic fruits like mangoes or passion fruit.
But the scent of lipstick is felt only in the stick, and it instantly disappears from the lips.
The taste of fudge is also present. If you lick your lips, you feel some sourness.
Texture
The texture of the lipstick pleasantly gliding on the lips, slightly oily consistency. Does not contain glitter and nacre.
Lipstick looks more like a gloss or balm, due to which it looks translucent on the lips.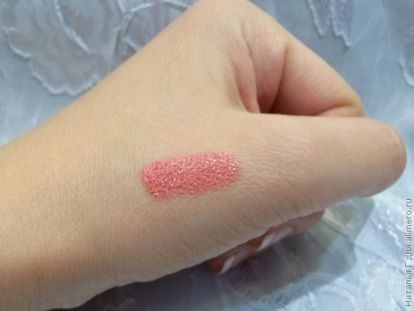 Drawing
Apply smoothly and easily.
But due to the fact that lipstick oily consistency, it is better to use with a pencil. Otherwise, it may spread beyond the contour of the lips.
Persistence
To praise the stability of lipstick is impossible.
After 2-3 hours the gloss starts to fade, but the shade remains a bit. In principle, I think this is normal, as lipstick-balms can not be persistent.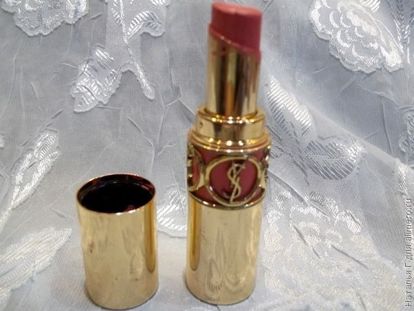 Personal opinion
There is a UV protection factor in this lipstick, which is good, since I bought this lipstick especially for a beach holiday.
I was also pleased that the lips do not dry out in the sun, but remain moist and soft.
And in the sun, sponges with lipstick shimmer amazingly.
Of the minuses, only that it cannot be used without a pencil, since it does not hold the shape of the lips. But I don't use it without pencils, so it doesn't upset me.
I want to note that such lipstick reviews are contradictory, but for me personally, it is just perfect.
I can advise her to those who, like me, use a lip pencil and love gloss and balms.
The price, of course, is a little expensive – 420 hryvnia, or about $ 37, but I don't feel a penny. This is the case when it is worth to fork over the suite.