Somehow it took me into the head that I needed vitally a maroon, almost black color. I didn't want to waste money on luxury wine-colored lipstick for the sake of a temporary experiment, and I didn't know whether that color would suit me at all.
After reviewing the reviews on the Internet, I realized that there is a budget option that is not inferior in color to luxury brothers – Lasting finish lipstick in 120 shades from Rimmel.
It should be noted, I had to look for this beauty more than one day. Of course, this problem is unlikely to arise in the capital, but in my city I have traveled more than one store, until I finally found this persistent lipstick.
Description and manufacturer promises

Lasting finish lipstick series has become Rimmel's calling card and their bestseller. We are promised a resistant color up to 8 hours, a light texture, a huge selection of shades and rich colors. At the same time, the price for lipstick, in my opinion, is ridiculous – about 100 rubles. Now, if I want to know if any shade is suitable for me, at first I always look for something similar in the Rimmel palette.

These sweets on the Internet apparently invisible reviews, both positive and not so. I think that with the price of lipstick at 100 rubles each girl will be able to make an impression on her own and try at least one Lasting finish fudge.
My impressions

Lipstick packaging unpretentious, plastic, light. The lid can open, so you need to carefully carry it in a bag, do not throw it to the bottom, but keep it in a pocket or cosmetic bag. Perhaps, for me, this is the only negative, then – continuous advantages. Smell awesome, cherry, sweet and tasty.

Lipstick is dry, not greasy, it looks even more like a tint, but at the same time it does not dry the lips (but does not take care of them), it does not clog up in the folds. Satin finish, with time becomes matte. The first layer gives a saturated color. Due to the dryness, lipstick is not smeared and lasts all day, the color seems to be imprinted on the lips.
For lovers of vamp-images

My shade is called Cutting edge, and it's an incredible shade. At all, it looks different, and with different lighting gives shades from burgundy to purple. I think not everyone will decide on such a color, but in my opinion, this is a very interesting option for autumn.
I can not say that there are many reasons to wear such a shade, but sometimes I want to experiment, and my young man, surprisingly, liked reincarnation.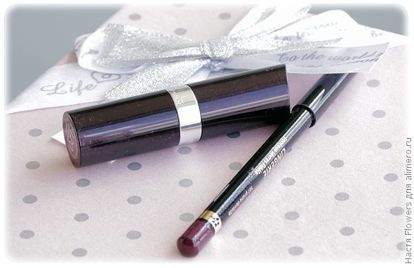 However, because of such a saturated color, you have to be extremely careful when applying – it is better to use a brush and a pencil for lips.
Perfect couple

I didn't think I would find a lip liner so quickly in the color of a vampire lipstick, but L'etual Lingerie in 107 shades (Prune dentelle) was just perfect. It is not very hard, but not soft, it keeps the contour perfectly, but most importantly, it fits lipstick. Price a little more than 100 rubles.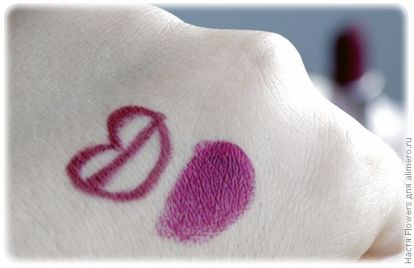 I was pleasantly surprised by the quality, used to be very skeptical of this brand, now I look at other shades. By the way, if you paint all the lips with a pencil, and not just the contour, it turns out matte lipstick! If I had known before, maybe I would not even buy lipstick, because they have almost one-to-one color.
In general, I am satisfied with the shopping, it remains to find more reasons to walk this color on the lips.