Not so long ago, almost every cosmetic brand has released its own version of lipstick in the form of a pencil. Lumene was no exception. I chose lipstick pencil Berry sorbet Raspberry Miracle in shade 15 Full of Berries.
The manufacturer (Finland) promises ease and convenience of use, light texture, smooth and flawless application, comfort in wear. Shades are ideal for summer and spring makeup. Arctic raspberry seed oil moisturizes lips. Paraben free. 4 in 1: contour, color, gloss and care. In the collection of 8 shades.
Lipstick case is made of simple plastic to match the shade. In my case – saturated red. The bottom and cap are made of silver plastic, all the inscriptions are also made of silver. The inscriptions are fragile and after a couple of weeks of wearing in a purse, the lipstick has lost its appearance, the inscriptions have faded. Not the most pleasant sight.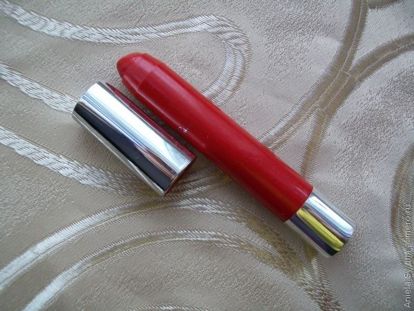 Lipstick is twisted from the case body. Its initial appearance was pointed, but gradually the stick was erased, but it did not require sharpening.
Appearance and application
Lipstick in a case of 2.8 g. The texture is light, it is very simple to apply on the lips, it does not require a pencil due to its pointed shape. When making up, I first circle the lip contour with a pointed side, and then fill it with color. The perfume is pleasant, barely perceptible, for me it smells of citrus.
The color is very beautiful – saturated red. When applied in one layer, the lipstick is translucent and lies unevenly, but the second layer fixes everything. Lips become wet in appearance. The color emphasizes the whiteness of the teeth. Lipstick is not clogged, does not roll into a white strip.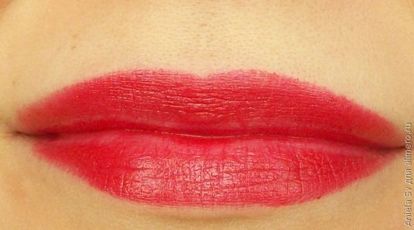 Not very resistant, the snack will not stand – the contour will remain, but the inner surface of the lips will be eaten. Lipstick on the lips is not felt.
Removed lipstick is very easy with any makeup remover. It is enough to hold one time on the lips with a cotton pad. Lips after makeup removal does not dry.
Comfortable application and bright color made this lipstick one of my favorite. I like the effect of the lips and the fact that you can not use a pencil, that is, in fact, lipstick contains at least 2 products. Price – 300 rubles without discounts.