I discovered these lipsticks when I was looking for a lip shade suitable for nude makeup. He suggests an emphasis on make-up eyes in combination with very restrained, natural lips.
Both lipsticks coped perfectly with the color task. But as far as quality is concerned, I cannot call them flawless.
I admit that I consider my lips far from ideal. It seems to me that they are too thin. And besides, I have the wrong bite – the lower jaw protrudes slightly.
Therefore, I empirically came to the conclusion: dark or bright lipstick is simply contraindicated to me. It only emphasizes these shortcomings: it makes the lips even thinner and attracts attention to the mouth and the defect of the bite.
Another thing, if the lipstick is light. She visually makes her lips more plump, and at the same time makes it possible to focus on the eyes.
I love everything simple, concise, no frills. Therefore, nude makeup is my choice. Cheeks and lips of a natural, neutral shade. And no shine, mother of pearl – I can afford them very rarely, on holidays.
Another feature of my face is very fair skin. To such a hard to find beige lipstick: it usually looks too dark, almost brown. Brown girls with this easier. My sister, for example, even the shade of lipstick like coffee with milk looks so fleshly. Especially in summer, combined with tan.
I looked for my lipstick nude (light beige and always matte!) For a long time. I didn't get hung up on any particular brand or price category. I went around dozens of shops and tried many shades. The best that I could offer: light beige, translucent liquid glitter.
But searches were crowned with success. My choice fell on Estee Lauder Lipstick Pure Color Long lasting, or rather its shade with the delicious name VANILLA TRUFFLE (vanilla truffle).
I was going to buy it only, but the consultant said that the store is taking action 3 for the price of 2. And taking one more lip gloss – Estee Lauder Crystal (shade CRYSTAL BABY), I chose a bottle of toilet water as a gift. How was it to resist?

So they hit me a sweet couple 🙂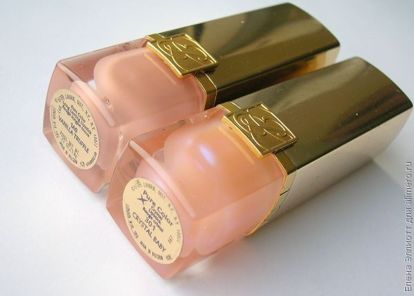 On the left in the photo is Long lasting lipstick, VANILLA TRUFFLE shade. According to the description in the catalog, lipstick in this series is characterized by intense luster and rich color. This shade is light, matte, pale lilac.
On the right in the photo is the lipstick-gloss series Crystal, shade CRYSTAL BABY.
Description of lipstick in the catalog – intense shine, transparent color
This shade is light, dull, pinkish yellow.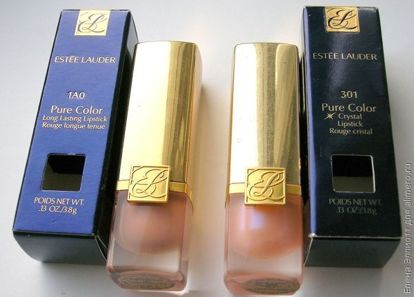 Lipsticks are produced weighing 3.8 g. The cost today is about 1,400 rubles.
I really liked the design: beautiful design, looks quite expensive. And at the same time, simply and concisely.
Lipstick with natural light.
VANILLA TRUFFLE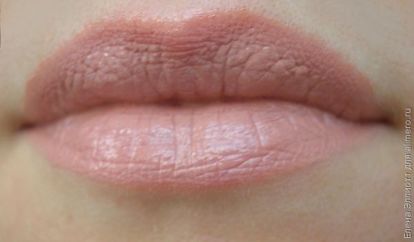 VANILLA TRUFFLE – flash photo.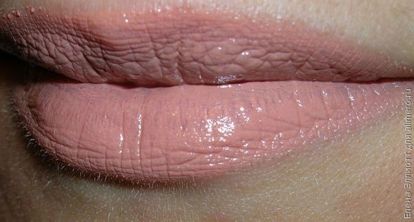 CRYSTAL BABY – macro, with natural light. This lipstick is more transparent, very similar to lip gloss.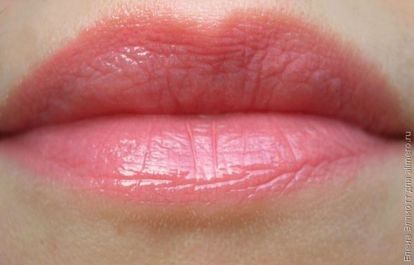 CRYSTAL BABY – flash photo.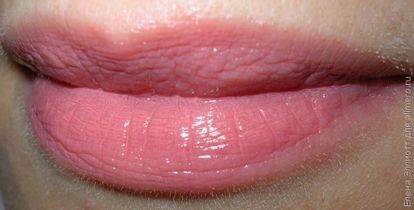 My impressions. Advantages and disadvantages.
Pros:

– Colour I like both lipsticks. VANILLA TRUFFLE is light enough for me. Although, if you have a darker, dark skin, then this lipstick will look unnaturally light.
CRYSTAL BABY though lays more transparent layer, the shade has a bright. He is very refreshing face. It happened to me that I use VANILLA TRUFFLE more often in the cold season, and CRYSTAL BABY in the summer.
– Care, nutrition and hydration. Lipstick well cares for lips. Sensations after it are pleasant, lips do not need to be additionally moisturized.
Minuses:
– because of its creamy, rather dense textures VANILLA TRUFFLE emphasizes the imperfections of the lips (airborne, peeling). No wonder it is called many putty. A CRYSTAL BABY on closer examination is collected in the folds of the lips. And: CRYSTAL BABY practically melts in a tube in the heat, it is even scary to apply.
– Smell lipsticks are quite specific. I can't call it unpleasant, it even resembles the smell of sweets or cakes. But it could be better. Especially considering the cost.
– Persistence average. Hold lipstick is not very long, usually have to be updated every 2 hours. Although for me this minus is relative. I don't like to use persistent lipstick, they dry my lips.
I almost finished both lipsticks and now I have a choice: to buy the same ones again or to look for something new. It seems to be more pluses and minuses, but I just fell in love with shades.
Do you like nude makeup? What lipstick do you use for it?