If you like bright and durable manicure, then this nail polish is for you! The color palette of this brand is very interesting and rich, just the eyes run! The price fully justifies the quality.
German company
Lady Rose is a German company. Lacquer is made in Munich, and it pleases, because the products that are licensed to make in Russia are very inferior in quality to their relatives.
The company has several series of decorative varnishes, a very wide line of nail care products, as well as a whole heap of all sorts of cosmetic things like sponges, brushes, nail files, tweezers and other trifles. In general, Lady Rose is trying hard for the lady.
Choosing Lady Rose # 644 was worth a lot of work, because on the shelves of the company there were at least a hundred bubbles, and maybe more!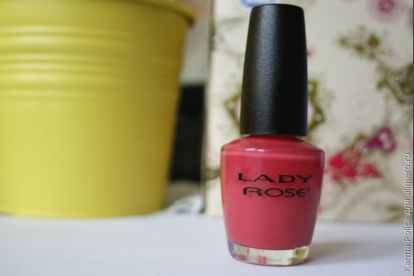 Composition


I noticed that my Lady Rose does not have a pungent smell. Varnish is declared as quick-drying and without acetone, which means you can cover both your own and artificial nails.
I read the composition: ethyl acetate, butyl acetate, camphor … Well, here you are! Many manufacturers avoid adding camphor in varnishes, although this substance is an excellent plasticizer and of natural origin, but is considered toxic.
At the end of the list is tocopherol (vitamin E) and wheat proteins. I don't believe in the usefulness of these components in varnish! Tell me, how can a vitamin survive, being a couple of years in a bottle with several aggressive solvents?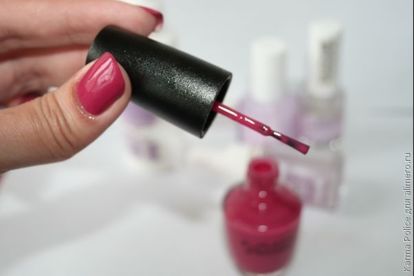 Bright berry
I love the color of my bubble! He is so bright, tasty, berry, with different lighting plays from raspberry to pink fuchsia. The color is good and will be appropriate in summer and winter.
Bubble Lady Rose exactly repeats the design of varnishes of the professional brand OPI, and I don't know if this is good or bad. But I will say that it is very solid: glass is free from defects, and the lid is heavy and ground in. And it costs two times cheaper than OPI, in the region of 200 rubles.
The brush is thin and long, very neat, dials the correct amount of lacquer, just enough to paint one nail.
To quality you will not carp. I paint them nails in one layer, while the varnish is self-leveling and hides the irregularities of the nail plate.
One layer dries instantly, two layers will have to be dried a little longer. Persistence is very good, on the base and with the top it lasts a week, a little rubbing at the tips.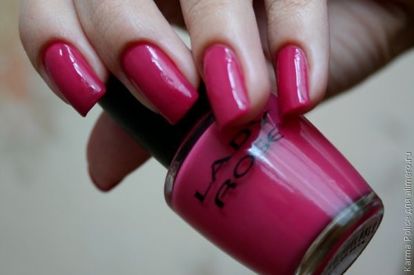 I consider its only drawback to be volume – as much as 15 ml, I will never paint it, and this is not very practical.
Without scruples, I can recommend Lady Rose for an express manicure, because they can make up your nails half an hour before leaving the house.