I wanted to buy a lacquer lipstick. In addition, they are now so popular. My choice fell on the Rimmel brand with their lacquer lipstick with an interesting name and a perfect shade for the summer – 401 Aurora.
The manufacturer (UK) promises a varnish shine and intense color. This is not just lipstick or lip gloss – it is much more – color resistant. In the collection of 10 shades.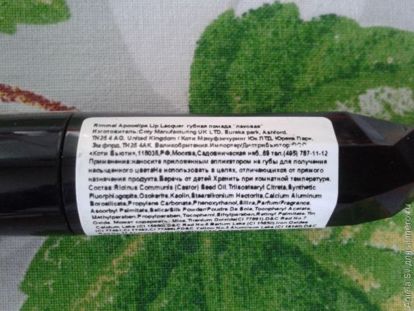 Packaging and appearance
Lipstick is enclosed in a very stylish tube – on top of it is black, which smoothly flows into a shade enclosed in a tube – in this case I have a bright pink. A tube of plastic, but made with high quality, the lid fits tightly and snaps to the end. Volume – 5.5 ml. Inside the tube there is a comfortable soft sponge in the form of a scapula, it is picking up lipstick in moderation – just on applying on both parts of the lips – it accumulates in a special recess.


The sponge of the required size, on a medium length stick, easily applies and distributes lipstick over the lips without leaving the lip contour. Lipstick light creamy texture, has a subtle pleasant to me the aroma of peach, which is not felt on the lips when worn.
Hue and application
I have a very beautiful shade – bright pink, without a chimmer. The hue falls on the lips with a varnish film, from which the lips acquire a very beautiful wet finish – it looks noble and attractive. Lipstick does not run off the lip contour, does not require a pencil, does not flow into folds, does not form a white stripe. Keeps on for quite a long time – it can withstand a light snack, but it will not survive a full meal – you'll have to correct.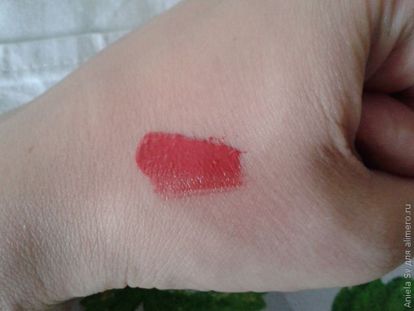 Comes out delicately, loses its glossiness, leaving only a hint of color. But it looks neat at the same time. I combine such shade with a neutral make-up of eyes, then lips attract all attention to themselves. Lipstick is removed easily with any makeup remover or micellar water. Lips after rinsing does not dry, does not form peeling.
Decent product from a famous brand. Lipstick-gloss decent quality for little money. I think any girl will find for themselves the necessary shade from this series. Cost – 299 rubles without discount.