For the smell of this shower gel, I will buy it many more times. The extraordinarily delicate, sweet aroma of peach and tea rose goes well together. Aroma concentration is high. After taking a shower, you'll smell at least another hour.
The consistency of the gel is watery, the product flows out of the tube without any problems. If you use it with a sponge for washing, enough for a long time. Foams well only with the help of foam sponges for washing. If you use it without washing aids, it will end pretty quickly.
The manufacturer, as always, promises a lot of magic when using this gel.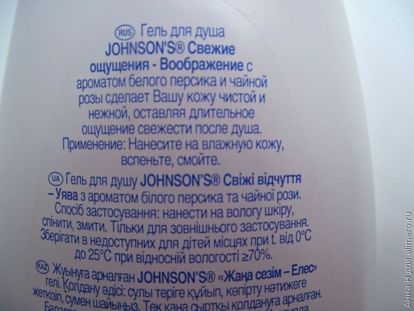 I can say with confidence that all promises are kept. The skin is clean, pleasantly smelling. I, with my skin prone to dryness, also received a bonus. This gel does not dry at all and does not tighten. I expected these sensations from a moisturizing gel, but I got it from an ordinary one.
Here, as in my previous review of JOHNSON'S shower gel, I can't say anything good. If you are not too worried about the chemical composition of products for washing your body and hair, then feel free to buy a good shower gel with an incredibly pleasant aroma. If you are at least sometimes interested in the composition of products, and try to avoid using products with an aggressive composition, I cannot recommend gel in this case.
Packaging is quite convenient. I also like the fact that when the tool runs out, you can put it on the shelf on the cover. Thus, you use all means to the last drop. The design is concise, tube pleasant.
The cost for 250 ml of the product is about 110 rubles. I think this shower gel is an excellent option. In the line there are many different flavors, so you can choose the flavor to taste.