Recently, a friend persuaded me to participate with her in a photo shoot on the theme of Disco. We bought part of the props in the store, where everything is sold at the same price. In the same place, I decided to get a bright glossy lip gloss to make the appropriate makeup, but not to spend extra money on a product that I will not use anymore.
I had previously written about my favorite lip products – Pupa fudge, Essence tint and Rimmel lacquer, but when a friend was shocked by the news from a photo session, I realized that to create a disco makeup I can't do without the shine of fuchsia.
I knew that I would not use such a bright shade in everyday life, so, in order not to waste money, I remembered my experience with inexpensive mascara, and bought shine in the same store.
Made in China

The full name of the product is Super SHOCK liquid lip shine with crystal from Mary K. The price is funny – 39 rubles. Volume 9 ml, made in China.
And again, the Chinese borrowed design from another company, I remembered the brilliance of Avon and Rimmel. It contains wax, mineral oil, nacre, pigments, flavors, etc. Color 07, bright fuchsia.

The packaging is plastic, transparent, the color matches the content. By the way, the shine was packed in a plastic film, which means that no one opened it up to me.

Miser pays twice

I don't know what I was hoping for when I bought this shine, but in the end I didn't use it, and my friend lent me her lipstick for shooting.
In the package, the color seemed very bright, in fact, it gives a translucent coating. Yes, it shines beautifully, creating a lacquer effect, but the color is not as rich as I needed.

The smell of shine is strong, some kind of fruity, I did not like it, it resembles children's cosmetics … It feels like shine is greasy, sticky, it is not pleasant to keep it on lips. Plus everything else and rolled into a terrible ugly strip.
After you wash it, your lips seem to have dried up, I want to moisten them urgently.
Of the advantages I can distinguish sponzhik, it is convenient for me, a bit oblate. On this, perhaps, the virtues end.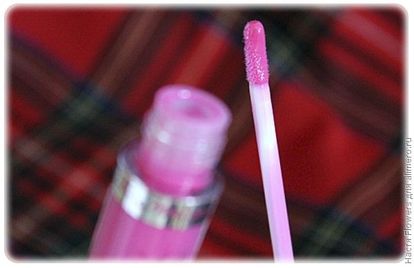 Cheap but very angry

Often inexpensive cosmetics are not inferior to luxury in quality, but this brilliance is not from that opera. The price is fully consistent with the content, and maybe even overpriced. If you are looking for a tool at once, as in my case for a photo shoot, then you should not hope for this brilliance.
It is better then to use Photoshop and repaint the lips in the color in which you need. Well, or turn to another company, as Super SHOCK is in fact not at all super.
Do you have in mind inexpensive products that pleasantly surprised you?